Catalogs

>

ZODIAC

>

Life Jackets
Catalog excerpts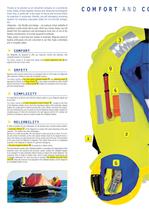 Thanks to its position as an industrial company on a worldwide scale, Zodiac brings together diverse and advanced technological know-how, in particular in the areas of rescue and survival where its expertise is renowned: liferafts, aircraft emergency arresting systems for airplanes, evacuation slides for civil aircraft, airbags, etc. Lifejackets – like liferafts and airbags – are products where reliability of operation is quite simply vital to users. When you choose Zodiac, you will benefit from the experience and technological know-how of one of the leading manufacturers of survival...
Open the catalog to page 2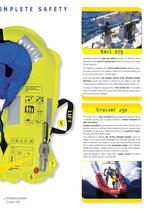 OMPLETE SAFETY Sail 275 Essentially designed for open sea sailing, the SAIL 275 lifejacket will be perfectly at home aboard a sailing boat thanks to its harness and sizable 30-litre buoyancy. The lifejacket is equipped with a built-in safety harness featuring a stainless steel buckle and D-ring enabling a lifeline to be attached allowing you to move around the deck in complete safety. If the craft goes down, the sizeable volume of the inflatable bladder (30-litres) ensures the wearer is returned to the surface in less than 5 seconds even if weighed down by his clothes (watch jacket,...
Open the catalog to page 3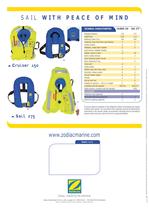 SAIL WITH PEACE OF MIND Cruiser Sail 150 275 Inflatable (Newton) Weight (kg) Reflecting strips (cm2) Protective cover with Velcro type fastener Control window Inflatable, coated fabric bladder Asymmetrical inflatable bladder Bladder volume in liters Built-in safety harness Quick-fastening plastic buckle Quick-fastening D ring Dorsal part Lifting handle Inflation tube with check valve Automatic release system Manual release system Whistle Man-to-man line Suitable for persons > 150 cm in height Compliant with EN standard Safety harness compliant with EN standard ACCESSORIES Protection hood...
Open the catalog to page 4
All ZODIAC catalogs and brochures
Compare up to 10 products