Catalogs

>

ECPIR-3P
Catalog excerpts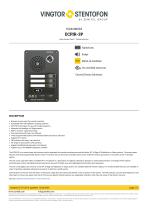 ECPIR-3P Exigo Access Panel / Turbine Intercom AlphaCom Exigo EN54-16 Certified UL Certified Intercom Control Room Solutions DESCRIPTION Network access panel for console mounting Compatible with ICX-AlphaCom and Exigo systems SIP/VoIP functionality for use with 3rd-party systems Advanced call handling in IC-Edge systems DSP for acoustic signal processing Communication and Power over Ethernet Three programmable buttons with individual labels and status indicators Separate PTT button LED Indicators for power, call, and fault For single or dual systems (A-B systems) Supports handheld and gooseneck microphones Supports up to four EMBDR-8 expansion modules The ECPIR-3P is an access panel and intercom station developed for console mounting and used with either SIP, IC-Edge, ICX-AlphaCom or Exigo systems. The access panel features three fully programmable buttons and a PTT button that can be used to manually select zones, initiate fire alarms, gas alarms, or any other action in the Exigo system. The unit can be used with either a handheld PTT microphone or a gooseneck microphone, allowing an operator to make announcements in the Exigo PA/GA system. Automatic gain control and digital audio processing can be used to handle noisy and challenging environments when necessary. The unit is fully digital, and connects to the SIP, IC-Edge, ICX-AlphaCom or Exigo system over standard Ethernet network cabling. Two monitored Ethernet ports are available in order to facilitate redundant cabling and connection to both the A and B system. LED indicators on the unit show the status of the power supply and call activity, and whether a fault is present in the system. The fault indicator can also be designated to only show faults on the access panel itself. Each of the access panel's buttons features two independent indicators that show the status of the button's function. See also: additional documentation on wiki.zenitel.com Created: 07.07.2014, updated: 13.08.2020 www.zenitel.com Zenitel and its subsidiaries assume no responsibility for any errors that may appear in this publication, or for damages arising from the information therein. Vingtor-Stentofon products are developed and marketed by Zenitel. The company's Quality Assurance System is certified to meet the requirements in NS-EN ISO 9001. Zenitel reserves the right to modify designs and alter specifications without notice. ZENITEL PROPRIETARY. This document and its supplementing elements, contain Zenitel or third party information which is proprietary and confidential. Any disclosure, copying, distribution or use is prohibited, if not otherwise explicitly agreed in writing with Zenitel. Any authorized reproduction, in part or in whole, must include this legend. Zenitel – All rights rese
Open the catalog to page 1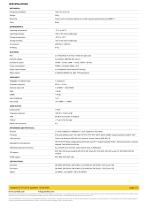 SPECIFICATIONS MECHANICAL Dimensions (HxWxD): Flush mount, in-console, desktop or on-wall (requires optional back box EMBR-1) ENVIRONMENTAL Operating temperature: Operating humidity: Storage temperature: Storage humidity: 2 x RJ45, Mode A (in-line) or Mode B (spare pair) Nominal voltage: According to IEEE 802.3af, class 0 VNOM = 24 VDC, VMIN = 16 VDC, VMAX = 48 VDC Power consumption: PNOM ≤ 2 W (idle), PMAX = 8 W Digital inputs/outputs Relay outputs AUDIO INPUT Pluggable microphone input Frequency response: Nominal input level: Input impedance: Input range: AUDIO OUTPUT Output power:...
Open the catalog to page 2
TECHNICAL DIMENSIONS Created: 07.07.2014, updated: 13.08.2020 www.zenitel.com Zenitel and its subsidiaries assume no responsibility for any errors that may appear in this publication, or for damages arising from the information therein. Vingtor-Stentofon products are developed and marketed by Zenitel. The company's Quality Assurance System is certified to meet the requirements in NS-EN ISO 9001. Zenitel reserves the right to modify designs and alter specifications without notice. ZENITEL PROPRIETARY. This document and its supplementing elements, contain Zenitel or third party information...
Open the catalog to page 3
All Zenitel Norway AS catalogs and brochures

Compare up to 10 products