Catalogs

>

EA1600
Catalog excerpts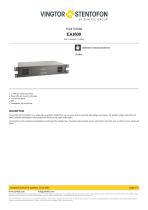 Onboard communication Audio 1x 600 watt continuous effect Power efficient class-D technology 110-230 VAC power 2HU Loudspeaker line monitoring DESCRIPTION The EA1600 SPA V2 Amplifier is an analog class-D amplifier designed for use in marine, offshore and other demanding environments. The amplifier utilizes state-of-the-art class-D amplifier technology to ensure high power efficiency and superb audio quality. The amplifier is self-monitoring including basic monitoring of the speaker lines. The audio output channels can be monitored for line faults such as shorts circuits and ground faults. Created: 23.04.2019, updated: 12.06.2020 www.zenitel.com Zenitel and its subsidiaries assume no responsibility for any errors that may appear in this publication, or for damages arising from the information therein. Vingtor-Stentofon products are developed and marketed by Zenitel. The company's Quality Assurance System is certified to meet the requirements in NS-EN ISO 9001. Zenitel reserves the right to modify designs and alter specifications without notice. ZENITEL PROPRIETARY. This document and its supplementing elements, contain Zenitel or third party information which is proprietary and confidential. Any disclosure, copying, distribution or use is prohibited, if not otherwise explicitly agreed in writing with Zenitel. Any authorized reproduction, in part or in whole, must include this legend. Zenitel – All rights reserved
Open the catalog to page 1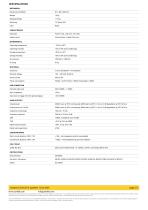 SPECIFICATIONS MECHANICAL Dimensions (HxWxD) Shipping Weight USER INTERFACE Indicators Power, Fault, Line error, VU meter Audio control Volume, Bass, Treble, Pilot tone ENVIROMENTAL Operating temperature Operating humidity Storage temperature Storage humidity ELECTRICAL Connector Nominal voltage Inrush current Power consumption P(idle) ≤ 32 W, P(nom) = 860VA, P(overload) = 980VA LINE CONNECTION Nominal input level Input impedance Input level to trigger VOX for optional bypass AUDIO OUTPUTS Output power Output line technology Frequency response Rated load resistance Rated load capacitance...
Open the catalog to page 2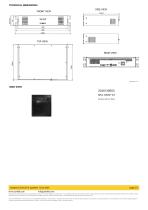 TECHNICAL DIMENSIONS USED WITH Created: 23.04.2019, updated: 12.06.2020 www.zenitel.com Zenitel and its subsidiaries assume no responsibility for any errors that may appear in this publication, or for damages arising from the information therein. Vingtor-Stentofon products are developed and marketed by Zenitel. The company's Quality Assurance System is certified to meet the requirements in NS-EN ISO 9001. Zenitel reserves the right to modify designs and alter specifications without notice. ZENITEL PROPRIETARY. This document and its supplementing elements, contain Zenitel or third party...
Open the catalog to page 3
All Zenitel Norway AS catalogs and brochures

Compare up to 10 products