Catalogs

>

Xantrex

>

Xantrex TM Freedom HF 1000 & 1800
Catalog excerpts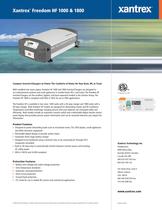 Compact Inverter/Chargers to Power The Comforts of Home On Your Boat, RV, or Truck With modified sine wave output, Freedom HF 1000 and 1800 Inverter/Chargers are designed to run entertainment systems and small appliances in smaller boats, RV's, and trucks. The Freedom HF Inverter/Chargers are the smallest, lightest, and least expensive models in the Xantrex lineup. The Freedom HF 1800 is compliant with KKK-A-1822 for use in EMS applications. The Freedom HF is available in two sizes: 1000 watts with a 20-amp charger and 1800 watts with a 40-amp charger. Both Freedom HF models are designed for demanding marine and RV conditions. Temperature-controlled multistage charging ensures that your batteries are recharged safely and efficiently. Both models include an automatic transfer switch and a detachable digital remote control panel display that provides precise system information and can be mounted wherever you require the Product Features ► Designed to power demanding loads such as microwave ovens, TVs, DVD players, small appliances and other electronic equipment ► Removable digital display to provide system status ► Automatic three-stage battery charger ► Designed to be hardwired using a terminal strip, or by connecting AC through GFCI receptacles (included) ► Built-in 30-amp relay to automatically transfer between inverter power and incoming Protection Features ► Battery over-voltage and under-voltage protection ► Automatic overload protection ETL listed for use in mobile RV, marine and commercial applications Burnaby, British Columbia 541 Roske Drive, Suite A Elkhart, Indiana © 2008 Xantrex Technology Inc. All rights reserved. Xantrex and Smart choice for power are trademarks of Xantrex International, registered in the U.S. and other countries.
Open the catalog to page 1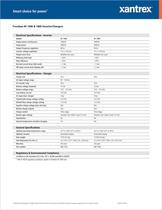 Smart choice for power™ Electrical Specifications - Inverter Output power (continuous) Surge power Output frequency regulation Inverter voltage regulation Output wave form Modified sine wave Modified sine wave Efficiency (full load) Peak efficiency No-load current draw (idle mode) Off mode current draw (display off) Electrical Specifications - Charger Charge rate AC input voltage range Battery voltage (nominal) Battery voltage range Default bulk charge voltage setting Default float charge voltage setting Equalize charge voltage (wet cell only) Battery charge outputs Charge control Battery...
Open the catalog to page 2
All Xantrex catalogs and brochures

Archived catalogs
Compare up to 10 products