Catalogs

>

Xantrex

>

PROwatt TM SW Sine-Wave Inverters (12-volt)
Catalog excerpts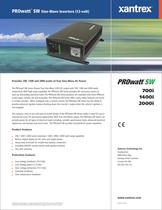 PROwatt SW Sine-Wave Inverters (12-volt) TM Provides 700, 1400 and 2000 watts of True Sine-Wave AC Power The PROwatt SW Series feature True Sine-Wave 230V AC output with 700, 1400 and 2000 watts respectively. With high surge capability, the PROwatt SW Series provides the necessary current to start-up demanding electrical loads. The PROwatt SW Series products are available with three different socket types: Schuko, UK and Australian. The PROwatt SW Series offers many safety features not found in similar inverters. When equipped with a remote control, the PROwatt SW Series has the ability to provide automatic ignition lockout shutting down the inverter's output when the vehicle's ignition is not engaged. 700i 1400i 2000i The compact, easy-to-use and easy-to-install design of the PROwatt SW Series makes it ideal for use in commercial truck, RV and marine applications. With True Sine-Wave output, the PROwatt SW Series can provide power for all types of electrical loads including, variable speed power tools, advanced electrical appliances, microwaves and much more. The PROwatt SW provides household AC power anywhere. Product Features 700 / 1400 / 2000 watts maximum, 1400 / 2800 / 4000 watt surge capability Built-in digital display for DC volts and output power Heavy duty terminals for trouble-free battery connection Available ON/OFF remote switch (with ignition lockout) Two year warranty Protection Features Low voltage shutdown (10.5 Vdc) Low voltage alarm (11.0 Vdc) Over voltage protection (15.5 Vdc) Overload shutdown Over temperature shutdown Xantrex Technology Inc. Headquarters 8999 Nelson Way Burnaby, British Columbia Canada V5A 4B5 604 420 1591 Fax www.xantrex.com © 2009 Xantrex Technology Inc.  All rights reserved. Xantrex, Smart choice for power and PROwatt are trademarks of Schneider Electric Services International sprl, registered in the U.S. and other countries. Printed in Canada.
Open the catalog to page 1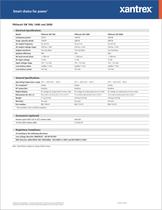 Electrical Specifications Continuous power Surge capacity (peak) AC output voltage range Output waveform True Sine Wave True Sine Wave True Sine Wave Optimal efficiency No load current draw Input voltage range General Specifications AC receptacle* Schuko Schuko Schuko DC connection Hardwire Hardwire Hardwire Digital display DC voltage, AC output power & error codes DC voltage, AC output power & error codes DC voltage, AC output power & error codes Warranty Two year Two year Two year * Also available in UK orAUS/NZ receptacle Accessories (optional) Remote panel with 7.62 m (25') remote cable...
Open the catalog to page 2
All Xantrex catalogs and brochures

Archived catalogs
Compare up to 10 products