Catalogs

>

Xantrex

>

PROsine TM 3.0 Inverter/Charger
Catalog excerpts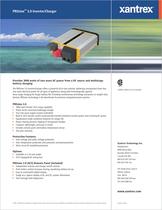 Provides 3000 watts of sine wave AC power from a DC source and multistage battery charging The PROsine 3.0 inverter/charger offers a powerful all-in-one solution, delivering unsurpassed clean true sine wave electrical power for all types of appliances along with technologically superior three-stage charging for longer battery life. Providing revolutionary technology and power to weight ratio, Xantrex PROsine technology is the benchmark for premium integrated power systems. CSA/NRTL certified to UL & CSA standards ► 3000 watt inverter, 50 A surge capability Power factor corrected multistage charger ► True sine wave output (crystal controlled) ► Built-in 30 A transfer switch automatically transfers between inverter power and incoming AC power ► Equalization mode conditions batteries for longer life ► Power sharing prevents tripping of shorepower breaker ► Compact, lightweight, and easy to install ► Includes remote panel and battery temperature sensor Protection Features ► Over voltage and under voltage protection Over temperature protection and automatic overload protection ► Short circuit AC backfeed protection ► Available in a 24 volt model PROsine 3.0 (ACS) Remote Panel (Included) ► Independent inverter and charger on/off controls ► Push button control of power sharing, equalizing, battery set-up ► Easy to read backlit digital display ► Single at-a -glance display of AC and DC system information ► Text message fault diagnostics Burnaby, British Columbia 541 Roske Drive, Suite A Elkhart, Indiana © 2004 - 2008 Xantrex Technology Inc. All rights reserved. Xantrex, Smart choice for power and PROsine are trademarks of Xantrex International, registered in the U.S. and other countries.
Open the catalog to page 1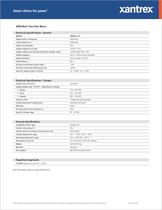 3000 Watt True Sine Wave Electrical Specifications - Inverter Models PROsine 3.0 Output power (continuous) 3000 watts Surge rating (5 sec.) 4000 watts Output current (peak) 50 A Output voltage (at no load) 120 VAC +/-3% Output voltage (over full load and battery voltage range) 120 VAC RMS -10% / +4% Output frequency 60 Hz +/-0.05% (crystal controlled) Output waveform True sine wave <5% THD Peak efficiency 88% No load current draw (search mode) <3 W No load current draw (with inverter on) <60 W Input DC voltage range (12 V/24 V) 10 – 16 VDC / 20 – 32 VDC Electrical Specifications - Charger...
Open the catalog to page 2
All Xantrex catalogs and brochures

Archived catalogs
Compare up to 10 products