Catalogs

>

Xantrex

>

FREEDOM SW 2000 Sine Wave Inverter/Charger
Catalog excerpts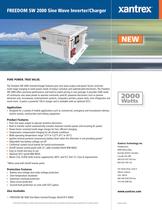 FREEDOM SW 2000 Sine Wave Inverter/Charger PURE POWER. TRUE VALUE. The Freedom SW 2000 inverter/charger features pure sine wave output and power factor corrected multi-stage charging to meet power needs of today's sensitive and sophisticated electronics. The Freedom SW 2000 offers premium performance and hard-to-match pricing in one package. It provides 2000 watts of continuous sine wave power to operate commonly used AC-powered electronics such as plasma television sets, microwaves, entertainment systems, computers, printers, power tools, mini refrigerator and much more. It packs a powerful 100 A charger and is available with an optional GFCI. ► Designed for a variety of mobile applications such as commercial, emergency and recreational vehicles, marine vessels, construction and military equipment. Product Features Pure sine wave output to operate sensitive electronics Built-in transfer switch automatically transfers between inverter power and incoming AC power Power factor corrected multi-stage charger for fast, efficient charging Temperature compensated charging for all climate conditions Wide operating temperature range: 32°F to 122°F (0°C to 50°C) Ignition lockout prevents unnecessary battery drain when the alternator is not providing power* Adjustable low battery voltage cut-off Conformal coated circuit boards for humid environments On/off remote control panel with 25' cable included (Part* 808-9002) Easy to install and easy to use Optional GFCI (part* 808-9003) Meets CSA, UL458 (with marine supplement), ABYC and FCC Part 15, Class B requirements *When used with On/off remote panel Protection Features Battery over-voltage and under-voltage protection Over-temperature shutdown Automatic overload protection Short-circuit protection Ground-fault protection on units with GFCI option Also Available ► FREEDOM SW 3000 Sine Wave Inverter/Charger (Part* 815-3000) Burnaby, British Columbia 541 Roske Drive, Suite A Elkhart, Indiana © 2010 Xantrex Technology Inc. All rights reserved. Xantrex and Smart choice for power are trademarks of Xantrex International, registered in the U.S. and other countries.
Open the catalog to page 1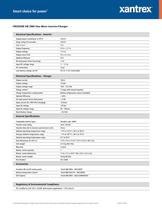 Smart choice for power™ FREEDOM SW 2000 Sine Wave Inverter/Charger Electrical Specifications - Inverter Output power (continuous at 30°C) Surge rating (10 seconds) Peak Current Output frequency Output voltage Output wave form Pure sine wave Optimal efficiency No-load power draw (inverting) Input DC voltage range Low battery voltage cut-off Electrical Specifications - Charger Output current Output voltage Output voltage range Charge control 3 stage with manual equalize Charge temperature compensation Battery temperature sensor (included) Optimal Efficiency AC input power factor (full power)...
Open the catalog to page 2
All Xantrex catalogs and brochures

Archived catalogs
Compare up to 10 products