Catalogs

>

Whale

>

Whale Twist Deck Shower
Catalog excerpts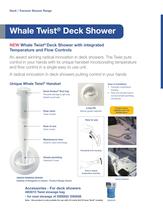 Deck / Transom Shower Range Whale Twist® Deck Shower NEW Whale Twist® Deck Shower with integrated Temperature and Flow Controls An award winning radical innovation in deck showers. The Twist puts control in your hands with its unique handset incorporating temperature and flow control in a single easy to use unit. A radical innovation in deck showers putting control in your hands Unique Whale Twist® Handset Ease of Installation • Compact unobtrusive housing • Only one circular hole to cut and simple plumbing connection Deck Protect® End Cap Prevents damage to gel coat Splash-proof seal Long life Easy clean Marine-grade materials Clear nozzles Product codes: DS0005 Cold only DS0006 Mixer How to use Ease of use Twist control Maintenance-free Ceramic valve technology Pull gently from housing Simple plumbing Patented D hose Twist to adjust temperature and flow AWARD WINNING DESIGN Institute of Designers in Ireland - Product Design Award Typical Installation Accessories - For deck showers AK0015 Twist stowage bag - for neat stowage of DS0005/ DS0006 Note - this product is only suitable for use with 2.5 metre (8.2 ft) hose Twist® models) 70 70 Manual Bilge AK0015
Open the catalog to page 1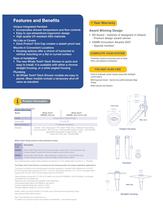 Features and Benefits 1 Year Warranty FRESHWATER Unique Integrated Handset • Incorporates shower temperature and flow controls • Easy to use-streamlined ergonomic design • High quality UV resistant ASA materials No Lids or Covers • Deck Protect® End Cap creates a splash-proof seal Mounts in Convenient Locations • Housing options offer a choice of horizontal or vertical mounting on a flat or curved surface Ease of installation • The new Whale Twist® Deck Shower is quick and easy to install. It is available with either a chrome straight housing, or a white angled housing Plumbing • All Whale...
Open the catalog to page 2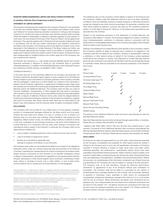 MUNSTER SIMMS ENGINEERING LIMITED AND WHALE WATER SYSTEMS INC (a subsidiary of Munster Simms Engineering Limited) ("Company") STATEMENT OF LIMITED WARRANTY All Products are covered by a 1 year limited warranty (detailed below) from (unless otherwise extended in advance in writing by the Company) date of purchase ("Standard Warranty"). In addition to the Standard Warranty, some individual Products are covered by a further warranty, as detailed in Table 1 below ("Additional Warranty"). In the event that any of the warranties offered by the Company are breached, the Company shall (at its...
Open the catalog to page 3
All Whale catalogs and brochures

Archived catalogs

Compare up to 10 products