Catalogs

>

Whale

>

Gusher 30 Manual Bilge Pump
Catalog excerpts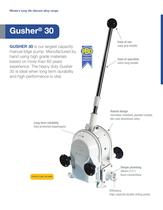 Whale's long life diecast alloy range Gusher® 30 GUSHER 30 is our largest capacity manual bilge pump. Manufactured by hand using high grade materials based on more than 60 years experience. The heavy duty Gusher 30 is ideal when long term durability and high performance is vital. Ease of use easy grip handle Ease of operation extra long handle Robust design corrosion resistant, powder-coated, die-cast aluminium alloy Long term reliability fully protected diaphragms Product code: see table Simple plumbing 38mm (1½") hose connections Efficiency high capacity double acting pump 28 28 Manual Bilge
Open the catalog to page 1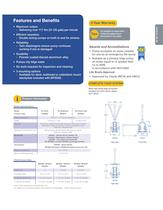 Features and Benefits 5 Year Warranty • Efficient operation - Double acting pumps on both to and fro strokes • Reliability - Twin diaphragms ensure pump continues working if one is damaged Tips MANUAL BILGE • Maximum output - Delivering over 117 ltrs (31 US gals) per minute It is important to ensure that a vented anti-syphon loop is incorporated in the system Awards and Accreditations • Durability - Powder coated diecast aluminium alloy • Pumps oily bilge water • No tools required for inspection and cleaning • 3 mounting options - Available for deck, bulkhead or underdeck mount (deckplate...
Open the catalog to page 2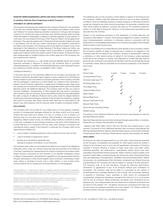 MUNSTER SIMMS ENGINEERING LIMITED AND WHALE WATER SYSTEMS INC (a subsidiary of Munster Simms Engineering Limited) ("Company") STATEMENT OF LIMITED WARRANTY All Products are covered by a 1 year limited warranty (detailed below) from (unless otherwise extended in advance in writing by the Company) date of purchase ("Standard Warranty"). In addition to the Standard Warranty, some individual Products are covered by a further warranty, as detailed in Table 1 below ("Additional Warranty"). In the event that any of the warranties offered by the Company are breached, the Company shall (at its...
Open the catalog to page 3
All Whale catalogs and brochures

Archived catalogs

Compare up to 10 products