Catalogs

>

Whale

>

Gulley IC - Complete Shower Waste System
Catalog excerpts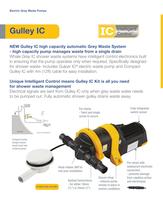 Electric Grey Waste Pumps Gulley IC NEW Gulley IC high capacity automatic Grey Waste System - high capacity pump manages waste from a single drain Whale Grey IC shower waste systems have intelligent control electronics built in ensuring that the pump operates only when required. Specifically designed for shower waste- Includes Gulper IC® electric waste pump and Compact Gulley IC with 4m (12ft) cable for easy installation. Unique Intelligent Control means Gulley IC Kit is all you need for shower waste management Electrical signals are sent from Gulley IC only when grey waste water needs to be pumped out. Fully automatic shower gulley drains waste away. Ezi-clamp - Twist and single screw to secure Fully integrated switch sensor Typical Installation Compact Gulley design senses waste level and controls pump Head rotates 360 to suit your installation 0 Product code: see table 92 92 Manual Bilge Barbed Connections - for either 19mm (3/4") or 25mm (1") Secure strap - ensures pump remain in place in marine conditions Pre-wired with waterproof electronic connectors - prevents damage from capillary action and electrolysis
Open the catalog to page 1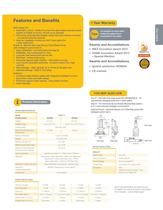 Features and Benefits 1 Year Warranty Gulley IC • Compact single shower gulley with integrated intelligent control • Easy clean cover and sleek design • Protected against water ingress – fully potted circuitry • Quiet drainage Tips GREY WASTE WHY Gulley IC? • Automatic control - Gulley IC senses the grey waste level and sends signals to Gulper IC to turn off and on as required. • One pump automatically handles waste from your shower on board - no manual switches required • Ideal for installation where you don't have space for a grey waste tank Gulper IC –Electric Non clog Electric Grey...
Open the catalog to page 2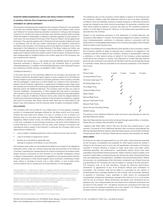 MUNSTER SIMMS ENGINEERING LIMITED AND WHALE WATER SYSTEMS INC (a subsidiary of Munster Simms Engineering Limited) ("Company") STATEMENT OF LIMITED WARRANTY All Products are covered by a 1 year limited warranty (detailed below) from (unless otherwise extended in advance in writing by the Company) date of purchase ("Standard Warranty"). In addition to the Standard Warranty, some individual Products are covered by a further warranty, as detailed in Table 1 below ("Additional Warranty"). In the event that any of the warranties offered by the Company are breached, the Company shall (at its...
Open the catalog to page 3
All Whale catalogs and brochures

Archived catalogs

Compare up to 10 products