Catalogs

>

Whale

>

Bilge IC
Catalog excerpts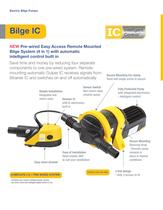 Electric Bilge Pumps Bilge IC NEW Pre-wired Easy Access Remote Mounted Bilge System (4 in 1) with automatic intelligent control built in Save time and money by reducing four separate components to one pre-wired system. Remote mounting automatic Gulper IC receives signals from Strainer IC and switches on and off automatically Secure Mounting Ezi-clamp Twist and single screw to secure Sensor Switch Non return valve strainer pump Simple Installation Integrated non return valve Strainer IC with IC electronics built in Easy clean strainer Ease of Installation Head rotates 360º to suit your installation Product code: see table COMPLETE 4 in 1 PRE-WIRED SYSTEM Complete your system intelligent pump, strainer, non return valve and intelligent digital switch in one YOU MAY ALSO LIKE 16 16 Manual Bilge Fully Protected Pump with integrated electronics - intelligent control Secure Mounting Securing strap - Ensures pump remains in place in marine conditions 3 feet design - Only 3 screws to fit
Open the catalog to page 1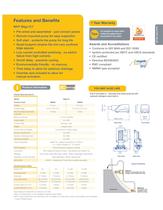 Features and Benefits 1 Year Warranty • • • • • • • • • Pre-wired and assembled - just connect power Remote mounted pump for easy inspection Soft start - protects the pump for long life Small footprint strainer fits into very confined bilge spaces Low current controlled switching - no switch failure from high currents On/off delay - prevents cycling Environmentally friendly - no mercury Time delay to allow for optimum drainage Override wire included to allow for manual activation Tips ELECTRIC BILGE WHY Bilge IC? It is important to ensure that a vented anti-syphon loop is incorporated in...
Open the catalog to page 2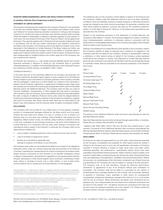 MUNSTER SIMMS ENGINEERING LIMITED AND WHALE WATER SYSTEMS INC (a subsidiary of Munster Simms Engineering Limited) ("Company") STATEMENT OF LIMITED WARRANTY All Products are covered by a 1 year limited warranty (detailed below) from (unless otherwise extended in advance in writing by the Company) date of purchase ("Standard Warranty"). In addition to the Standard Warranty, some individual Products are covered by a further warranty, as detailed in Table 1 below ("Additional Warranty"). In the event that any of the warranties offered by the Company are breached, the Company shall (at its...
Open the catalog to page 3
All Whale catalogs and brochures

Archived catalogs

Compare up to 10 products