Catalogs

>

Walcon Wizard : piling barge
Catalog excerpts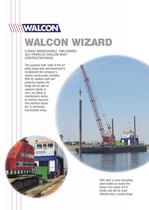 WALCON WIZARD A HIGHLY MANOEUVRABLE, TWIN ENGINED SELF PROPELLED SHALLOW DRAFT CONSTRUCTION BARGE This purpose built 'state of the art' piling barge was commissioned to marina construction activities With its shallow draft and barge will be able to maintenance works inaccessible areas. With both a crane and piling plant loaded on board the knotts and will be more efficient than a towed barge.
Open the catalog to page 1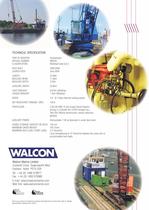 TECHNICAL SPECIFICATION OFFICIAL NUMBER: DATE BUILT: LAUNCH DATE: MOULDED BEAM: MOULDED DEPTH: LOADLINE LENGTH: LIGHT DRAUGHT: LOADED DRAUGHT: AUXILIARY POWER: USABLE STORAGE CAPACITY ON DECK: MAXIMUM CARGO WEIGHT: MAXIMUM DECK LOAD: (POINT LOAD) 7.0 - 8.7 Knots (Normal running speed) 2 No D9-93M, 9 Litre Scania Diesel Engines driving 2 x Schottel SPJ-57RD Pumpjet vla a Twin Disc Marine transmission, reverse reduction Demountable 7.5K va Generator In under deck store, Local strengthening to 15 Tonne/m2 between the crane rails to accommodate track loads. Walcon Marine Limited Cockerell Close...
Open the catalog to page 2
All Walcon Marine catalogs and brochures

Archived catalogs

Compare up to 10 products