Catalogs

>

System 21
Catalog excerpts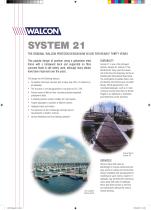 SYSTEM 21 The original Walcon pontoon design now in use for NEARLY THIRTY years This popular design of pontoon using a galvanised steel frame with a hardwood deck and supported on fibre concrete floats is still widely used, although many details have been improved over the years. The design has the following features: • All-welded mild steel structure with a heavy duty 180×75 channel on all walkways. • structure is hot-dip galvanised in one piece to B.S. 729. The • Proven record of Walcon fibre concrete protected expanded polystyrene floats. • modular pontoon system suitable for most layouts. A DURABILITY System 21 is one of the strongest pontoon designs for marinas. It has withstood for many years the severe test of forming the temporary marina at Southampton International Boat Show. The combination of welded frame units and flexible connections give a durable design. Where galvanising is not considered adequate, such as in more corrosive environments than the United Kingdom, an additional or alternative paint treatment can be specified. • Fingers adjustable in position at 500mm centres. • Hardwood deck and fenders. • provision for the increasingly complex service Full requirements of modern marinas. • Various freeboards and live loadings available. Torquay Marina, Torquay, UK Dun Laoghaire Marina Ireland Services have often been an afterthought in marina construction but easy access to cables and connections during installation and subsequently for maintenance saves money. System 21 walkways may be fitted with continuous ducts along both sides of walkways which give direct access to services and connections without the need to remove decking.
Open the catalog to page 1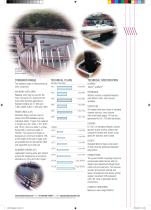 Glenarm Marina, Co Antrim, Northern Ireland STANDARD RANGE TECHNICAL PLANS The standard range of interconnecting units comprises: WALKWAY PONTOONS WALKWAY UNITS (WW) Walkway units may be used for the main concourse of a marina and for many other pontoon applications. Standard lengths are 11.46m and 7.46m; widths 2.56m, 1.93m and 1.65m FINGER UNITS (LSF) Cantilever finger units are used in conjunction With walkways giving individual berths. Fingers Are supplied in lengths of 4.5m, 6.0m, 7.5m, 9.0m and 10.5m. Units are made in a splay design with a minimum width of 750mm. The structure of...
Open the catalog to page 2
All Walcon Marine catalogs and brochures

Archived catalogs

Compare up to 10 products