Catalogs

>

VA-CARAVAN seasonal cover
Catalog excerpts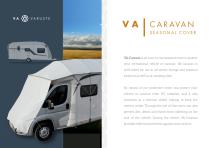 VA-Caravan is an easy-to-use seasonal cover to protect your recreational vehicle or caravan. V A-Caravan is well-suited for use in all winter storage and seasonal locations as well as at camping sites. By means of our protective cover, you protect your vehicle or caravan from UV radiation, and it also functions as a thermal shield, helping to keep the interior cooler. Through the use of this cover, you also prevent dirt, debris and leaves from collecting on the roof of the vehicle. During the winter, V A-Caravan provides effective protection against snow and ice.
Open the catalog to page 1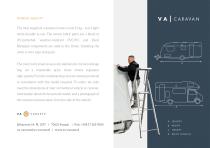 FINNISH QUALITY The total weight of a seasonal cover is only 15 kg – so it's light while durable in use. The woven fabric parts are a blend of UV-protected, fibreglass components are used in the frame. Installing the cover is very easy and quick. The cover suits small areas and is delivered in its own storage bag. At a reasonable price, these covers represent high-quality Finnish craftsmanship and are always produced in accordance with the model required. To order, we only D need the dimensions of your recreational vehicle or caravan, information about the brand and model, and a photograph...
Open the catalog to page 2
All VA-Varuste Oy catalogs and brochures

Compare up to 10 products