Catalogs

>

NAVIGATOR SERIES
Catalog excerpts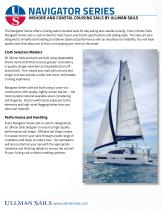 NAVIGATOR SERIES SAILS INSHORE AND COASTAL CRUISING SAILS BY ULLMAN The Navigator Series offers cruising sailors durable sails for day sailing and coastal cruising. Every Ullman Sails Navigator Series sail is custom-built to match your exact boat specifications and sailing style. The sails are also designed to simplify sail handling and deliver balanced performance with an emphasis on reliability. You will have quality sails that allow you to focus on enjoying your time on the water. Cloth Selection Matters All Ullman Sails products are built using dependable brand-name cloth that ensures greater consistency in quality, shape-retention and durability than offbrand cloth. This means your sails will not only last longer, but also provide a safer and more comfortable cruising experience. Navigator Series sails are built using a cross-cut construction with quality, tightly woven Dacron – the most durable material available when considering sail longevity. Dacron withstands exposure to the elements and high-wind flogging better than any other sail material. Performance and Handling Every Navigator Series sail is custom-designed by an Ullman Sails designer to ensure a high-quality performance sail shape. Efficient sail shape makes it is easier to trim your sails through a wide range of conditions and helps to reduce heel. Our sailmakers will also customize your sail with the appropriate hardware and finishing details to ensure the sail will fit your furling unit or other handling systems.
Open the catalog to page 1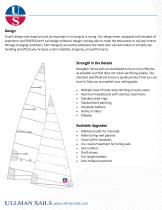 Design A sail's design and shape are just as important in cruising as in racing. Our design team, equipped with decades of experience and SMAR Azure® sail design software, design cruising sails to make the boat easier to sail and control through changing conditions. Each designer accurately addresses the loads each sail will endure to simplify sail handling and effectively increase a sail's reliability, longevity, and performance. Strength in the Details Navigator Series sails are developed to be as cost-effective as possible, but that does not mean sacrificing quality. Our standard...
Open the catalog to page 2
All Ullman Sails catalogs and brochures

Compare up to 10 products