Catalogs

>

Maj
Catalog excerpts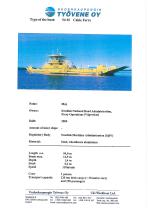 Name: Maj Owner: Swedish National Road Administration, Ferry Operations (Vagverket) Amount of sister ships: - Regulatory Body Swedish Maritime Administration (SjoV) Material: Steel, wheelhouse aluminium Length o.a. Beam max. Depth Draft Speed Transport capacity 120 ton deck cargo (= 30 motor cars) and 198 passengers Uiidenkaupimgiii Tyoveee Oy XJkl Workboat Ltd.
Open the catalog to page 1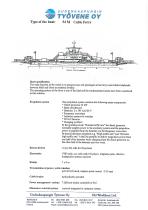 Short specification The main function of the vessel is to transport cars and passengers at the ferry route Malo-Frojdendal between Malo and Orust in southern Sweden The operating system of the ferry is one of the kind and the environmental issues have been considered in this solution. Propulsion system The propulsion system contains the following main components: * Diesel generator 25 kW * Main switchboard * Batteries 2 x 195 Ah/520 V * Frequency converters * Induction motors for winches * DC/AC Inverter * Charging rectifiers In the operation mode "Normal traffic rate" the diesel...
Open the catalog to page 2
All UKI Workboat catalogs and brochures
Compare up to 10 products