Catalogs

>

Military Capability Statement
Catalog excerpts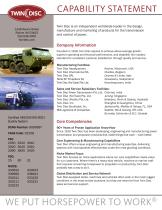 1328 Racine Street Racine, Wl 53403 262.638.4000 twindisc.com Twin Disc is an independent worldwide leader in the design, manufacture and marketing of products for the transmission and control of power. Company Information Founded in 1918, Twin Disc aspires to achieve above-average growth, superior operating and financial performance, and establish the industry standard for consistent customer satisfaction through quality and service. Manufacturing Facilities: Twin Disc Headquarters Twin Disc International SA Twin Disc SRL Rolla SP Propellers SA Twin Disc (Far East) Re. Ltd. Twin Disc Power Transmission Pvt, Ltd. Twin Disc (Far East) Re. Ltd. Twin Disc (Pacific) Ry. Ltd. Twin Disc, Inc. Twin Disc Southeast, Inc. Mill Log Group of Companies Racine, Wisconsin, USA Nivelles, Belgium Decima & Limite, Italy Novazzano, Switzerland Kancheepuram, India Chennai, India Jurong, Singapore Brisbane, Perth & Sydney, Australia Shanghai & Guangzhou, China Jacksonville, Medley & Tampa, FL, USA Seattle, WA & Coburg, OR, USA Burnaby, Edmonton & B.C. Canada Certified AS9100/ISO 9001 Quality System DUNS Number: 6090997 CAGE Code: 61208 90+ Years of Proven Application Know-How Since 1918 Twin Disc has been developing, engineering and manufacturing power transmission and propulsion products that make things that work — work better. Core Engineering & Manufacturing Capabilities Twin Disc offers unique engineering and manufacturing expertise, delivering systems with incomparable effectiveness under the most grueling conditions. Niche Market Focus Twin Disc focuses on niche applications where our core capabilities create value for our customers. Where there's a heavy-duty vehicle, machine or marine craft that requires converting horsepower to propulsion or productivity, Twin Disc probably has a way to do it. Global Distribution and Service Network Twin Disc-equipped boats, machines and vehicles often work in the most rugged conditions in the most remote locations, but they are never far from Twin Disc sales and service support.
Open the catalog to page 1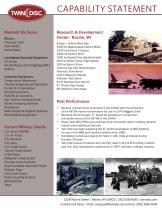 Markets We Serve Marine: Pleasure Craft Work Boats Patrol Boats Land-Based Specialty Equipment: Oil & Gas Aircraft Rescue & Fire-Fighting (ARFF) Military Industrial Equipment: Construction Machinery Tractors & Agricultural Machinery Pumps & Compressors Mining Equipment Forklifts & Conveyors Gas Turbine Starting Drives Street Sweeping Vehicles Snowplows Water Supply & Irrigation Systems Rail Industrial Equipment Current Military Clients U.S. Army (TACOM) U.S. Air Force U.S. Marines U.S. Navy U.S. Coast Guard Turkish Coast Guard Israeli Navy Malaysian Coast Guard Chinese Army/Customs Royal...
Open the catalog to page 2
All Twin Disc catalogs and brochures

Compare up to 10 products