Catalogs

>

EC300 Brochure
Catalog excerpts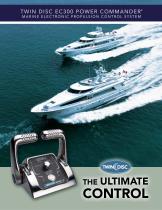 TWIN DISC EC300 POWER COMMANDER M arine E l ectronic P rop u l sion C ontro l S y stem AND MORE • rogrammable features make propulsion P re-powering simple because prior system configuration can be downloaded and re-entered on new system • imple, robust and easy to use S diagnostic system • 1939 and NMEA2000 coms available J for data broadcasting • Accepts 10 to 30 volt systems • Operator selectable minimum shaft speeds in Express and Troll modes • Software selectable methods for station transfer • Designed to meet and exceed major classification society standards • Interactive feature allows easy adjustment of key operating parameters • Configurable operation of accessories such as PTO, shaft brake and stabilizers TWIN DISC, INCORPORATED 1328 Racine Street Racine, Wisconsin 53403 USA www.twindisc.com bulletin ec300-a 06/11
Open the catalog to page 1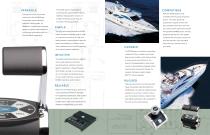 VERSATILE Take precise control of your boat with the Twin Disc EC300 Power ® Commander marine electronic propulsion control system. It's designed to interface with all popular electronic engines and transmissions, including the revolutionary new Twin ® Disc QuickShift transmission. include Express Joystick System stations. While the EC300 system is fully Additional design-specific versions are compatible with all popular propulsion available for dynamic positioning and options, it has been specifically automatic trimming capabilities. engineered to operate with the Twin Disc QuickShift...
Open the catalog to page 2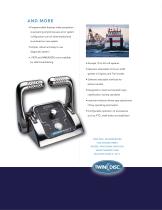 TWIN DISC EC300 POWER COMMANDER M arine E l ectronic P rop u l sion C ontro l S y stem AND MORE • rogrammable features make propulsion P re-powering simple because prior system configuration can be downloaded and re-entered on new system • imple, robust and easy to use S diagnostic system • 1939 and NMEA2000 coms available J for data broadcasting • Accepts 10 to 30 volt systems • Operator selectable minimum shaft speeds in Express and Troll modes • Software selectable methods for station transfer • Designed to meet and exceed major classification society standards • Interactive feature...
Open the catalog to page 3
All Twin Disc catalogs and brochures

Compare up to 10 products