Catalogs

>

MARBOX Monitoring System
Catalog excerpts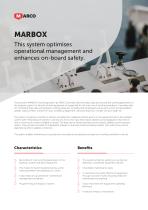 MARBOX This system optimises operational management and enhances on-board safety. The exclusive MARBOX monitoring system by MARCO provides real-time status data and records the working parameters of the hydraulic system for all kinds of deck equipment, but especially for the main winch and the powerblock. It provides data for monitoring flow rates and hydraulic working pressures, oil quality and temperature, purse seine winch and powerblock speeds, status of filters, number of hours worked by equipment, manoeuvring times, number of hauls made, etc. The system comprises a number of sensors and...
Open the catalog to page 2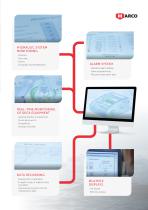 HYDRAULIC SYSTEM MONITORING · Pressure. · Flow rate. · Power. · Oil quality and temperature. ALARM SYSTEM · Real-time alarm display. · Alarm programming. · Record of past alarm trips. REAL-TIME MONITORING OF DECK EQUIPMENT · General display of equipment. · Purse seine winch. · Powerblock. · Auxiliary winches. DATA RECORDING · Assessment of operation. · In-depth study of malfunctions recorded. · Improvement actions for the maintenance plan. MULTIPLE DISPLAYS · On-board. · R
Open the catalog to page 3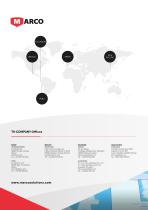 TH COMPANY Offices SPAIN HEADQUARTERS Aritz Bidea, 65 48100 Mungia, Vizcaya (Spain) info@thsa.com Tel.: +34 946 740 500 MEXICO MAZATLAN Calle Puerto Tampico s/n Parque Industrial Alfredo V. Bonfil 82050 Mazatlan, Sinaloa (Mexico) info@thmexico.com Tel.: +52 669 176 85 06 ECUADOR MANTA Via San Mateo, Ciudadela Mediterraneo, Bodega 8 130802 Manta (Ecuador) info.ecuador@thsa.com Tel.: +59 352 678 820 ASIA PACIFIC SHANGHAI Zhongshan West Road 1878 Building 1, Room 802 Xuhui, Shanghai, 200000 (China) info.asia@thsa.com Tel.: +86 15000 328 971 VIGO Av. Beiramar, 171 36208 Vigo, Pontevedra (Spain)...
Open the catalog to page 4
All TH COMPANY catalogs and brochures

Compare up to 10 products