Catalogs

>

Tallykey

>

tallybee remote reading
Catalog excerpts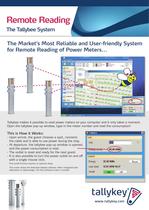 Remote Reading The Tallybee System The Market's Most Reliable and User-friendly System for Remote Reading of Power Meters... Tallybee makes it possible to read power meters on your computer and it only takes a moment. Open the tallybee pop-up window, type in the meter number and read the consumption! - Upon arrival, the guest chooses a spot, connects the cable and is able to use power during the stay. - At departure, the tallybee pop-up window is opened, and the power consumption is read. - The outlet is reset and ready for the next guest. - It is also possible to turn the power outlet on and off with a single mouse click. (The on/off function requires an optional relay). This screen shows the dedicated tallybee software. When integrated with tallymaster or tallymanager, the host software screen is viewed!
Open the catalog to page 1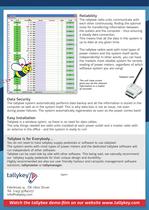 The tallybee radio units communicate with each other continuously, finding the optimal route for transferring information between the outlets and the computer - thus ensuring a steady data connection. This means that all the data in the system is up to date at any given time. The tallybee radios work with most types of power meters and the system itself works independently! In other words, you can have the markets most reliable system for remote reading of power meters, regardless of which software system you are using! Tallybee radio The unit view screen gives you all the relevant...
Open the catalog to page 2
All Tallykey catalogs and brochures
Archived catalogs

Compare up to 10 products