Catalogs

>

Tallykey

>

T4
Catalog excerpts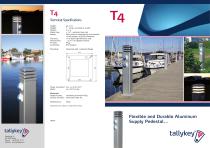 T4 Technical Specifications Heigth: Weight: Outlets: Water taps: Safety: Top lamp: Temperature: IP-class: Conformity: 90,2 cm 7 - 20 kg, according to model 2 or 4 2, 1/2" + optional hose rack Each outlet is protected by an automatic circuit breaker, and ELB protection. 1 x 15 Watt high-efficiency bulb - 20 t0 + 60 degrees Celsius IP45 IEC 60439-3 Delivered with a standard flange Power connection: CU, 2.5 to 16 mm2 Water: 20 mm PL-tube Materials: Pedestal body: Anodised aluminium 6063 Screws and bolts: Acid-proof steel A4 Y Maintenance: X Specifications are subject to change without notice. Flexible and Durable Aluminum Supply Pedestal...
Open the catalog to page 1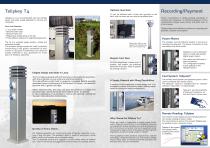 Optional Hose Rack Tallykey T4 is an uncomplicated and user-friendly power and water supply pedestal for marinas and campsites. T4 can be delivered with a hose rack mounted on the back, and the hose rack can also be retrofitted later. Facts and Features: • 2 or 4 power outlets • Optional water taps • Optional hose rack • Elegant low-energy lamp at the top • Three different solutions for registration/payment. The T4 is a versatile supply solution, simple and extremely durable. The timeless design speaks for itself, positively contributing to the guest's perception of your marina or campsite....
Open the catalog to page 2
All Tallykey catalogs and brochures
Archived catalogs

Compare up to 10 products