Catalogs

>

Tallykey

>

F10/F9
Catalog excerpts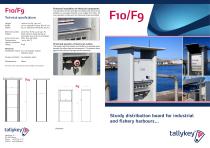 Protected installation of electrical components Technical specifications Height: Width: Depth: The operation of fuses and high-sensitivity earth-fault circuit breakers is concealed beneath a top-hinged front door. All user-operated components are otherwise freely accessible. 170/210 cm.(F9: 140 cm.) 70 cm. exclusive of lamp. (F9: 62 cm.) 50 cm. exclusive of lamp (F9: 40 cm.) Electrical outlets: Up to 600 A (F9: up to 250 A). Safety: Each outlet is protected by an automatic fuse and circuit breaker. Lamp at the top: LED. (F9: No lamp). Temperature: -20 to +60 °C. Ingress protection rating: IP56. Materials: Distribution board: 3/2 mm powder-coated stainless steel. Protected position of electrical outlets The panels' electrical outlets are installed in a recessed space beneath the other electrical components. This protects them against both physical damage and the elements. Screws and bolts: A4 stainless steel. Maintenance: We reserve the usual right to make changes to the product. Sturdy distribution board for industrial and fishery harbours… Distributor:
Open the catalog to page 1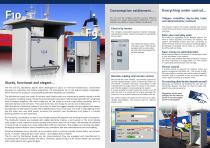 Consumption settlement… For F10 and F9, tallykey provides several different solutions for power-consumption settlement, and all solutions are based on sturdy, reliable components Everything under control… Tallypro simplifies day-to-day tasks and administrative routines! Electricity meters The simplest consumption-payment involves manuallyread electricity meters, where consumption is read directly on the meter. Our meters are sturdy, precise and easy to read. They are also equipped with a pulse output terminal and thus prepared for remote readings. Our wireless system for remote readings and...
Open the catalog to page 2
All Tallykey catalogs and brochures
Archived catalogs

Compare up to 10 products