Catalogs

>

Suzuki Marine Outboard-PDF
Catalog excerpts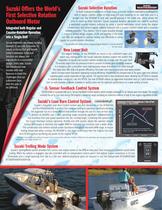 Suzuki Offers the World's First Selective Rotation Outboard Motor Integrated both Regular and Counter-Rotation Operation into a Single Unit Suzuki Engineers are always looking forward, to see into tomorrow, to create products that will benefit today's customer. Form and function are always key ingredients to a successful design. Every year, Suzuki has introduced new models with new features to meet the challenges that our customers face. And this year is no different. Suzuki Selective Rotation In multi-outboard installations on large boats, a counter-rotation outboard is usually paired with...
Open the catalog to page 2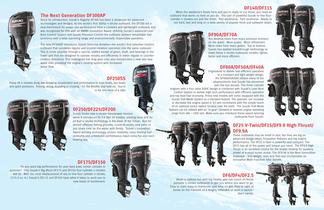 Since its introduction, Suzuki's flagship DF300 has been a showcase for advanced technologies and designs. As the world's first 300hp 4-stroke outboard, the DF300 set a new benchmark for power and performance from a compact and lightweight outboard, and was recognized for this with an NMMA Innovation Award. Utilizing Suzuki's advanced Lean Burn Control System and Suzuki Precision Control the outboard delivers remarkable fuel economy over a wide operating range and environmentally responsible operation. The new DF300AP introduces Suzuki Selective Rotation-the world's first selective rotation...
Open the catalog to page 3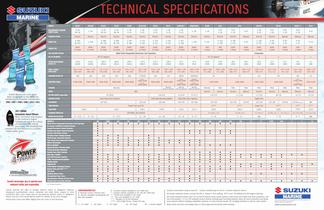 ECHNICAL SPECIFICATIONS Multi Point Sequential Electronic Fuel Injection Suzuki Marine has once again been recognized by the NMMAfor Excellence in Customer Satisfaction. Innovation Award Winner Most innovative new product Category as voted by a panel (delivers top end features to a smaller, ■ neater power plant. IGNITION SYSTEM TRIM POSITION STANDARD PROPELLER PROPELLER SELECTION Remote Remote Remote (Tiller Kit Optional) (Tiller Kit Optional) (Tiller Kit Optional) Solid State Direct Ignition Solid State Electronic Ignition Solid State Direct Ignition Power Trim and Tilt Power Tilt Suzuki...
Open the catalog to page 4
All Suzuki Marine catalogs and brochures

Archived catalogs

Compare up to 10 products