Catalogs

>

DF15/9.9
Catalog excerpts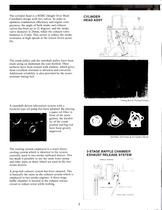 The cylinder head is a SOHC (Single Over Head Camshaft) design with two valves. In order to optimize combustion efficiency and engine com- pactness, the angle of both intake and exhaust valves has been set to 21 degrees, and the intake valve diameter is 26mm, while the exhaust valve diameter is 21mm. This serves to reduce the intake resistance at high speeds to the lowest levels possi- The crank pulley and the camshaft pulley have been made using an aluminum die-cast method. Their surfaces have been treated with alumite, which gives them excellent resistant to abrasion and corrosion....
Open the catalog to page 6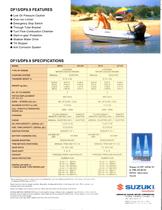 • Over-rev Limiter • Emergency Stop Switch • Through Tube Bracket • Turn Flow Combustion Chamber • Start-in-gear Protection • Shallow Water Drive • Tilt Stopper • Anti Corrosion System STARTING SYSTEM PISTON DISPLACEMENT FULL THROTTLE OPERATING FUEL TANK CAPACITY / (US/Imp. gal.) IGNITION SYSTEM BATTERY CHARGING COIL ENGINE MOUNTING TRIM METHOD (POSITIONS) GEAR RATIO GEAR SHIFT DRIVE PROTECTION OTHICK BLADE TYPE PROPELLER WATER COOLED ENGINE TILLER HANDLE/ WATER COOLED ENGINE TILLER HANDLE/ ELECTRIC MANUAL / ELECTRIC (OP.) ELECTRIC SHEAR MOUNT MANUAL TRIM AND TILT [5) SHEAR MOUNT MANUAL...
Open the catalog to page 8
All Suzuki Marine catalogs and brochures

Archived catalogs

Compare up to 10 products