Catalogs

>

Faille
Catalog excerpts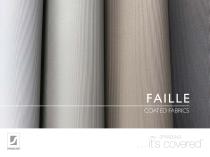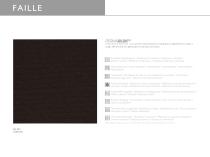 is is a proven vinyl protective coating that is engineered to create a tough, effective barrier against germs, abrasion and stains. Exzellente Abriebfestigkeit / Resistencia a la abrasión / Resistance a l'abrasion / Abrasion resistant / Resistenza all'abrasione / Doskonała odporność na ścieranie Wasserabweisend / Impermeabilidad / Imperméabilité / Impermeability / Impermeabilità / Wodoodporny Lichtechtheit / Durabilidad del color a la luz / Résistance à la lumière / UV resistant / Resistenza raggi solari / Odporny na promieniowanie UV Kältebruchresistent / Resistencia a bajas temperaturas /...
Open the catalog to page 2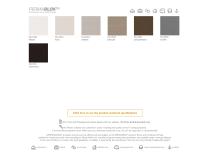 Click here to see the product technical specifications For Care and Cleaning instructions please visit our website W W W. S PR A D L I N G . E U No Master samples (not suitable for colour matching and quality control / testing purposes). Commercially acceptable colour shifts may occur between production runs. As such lot separation is recommended. All SPRADLING® products and services are offered and sold subject to the SPRADLING® General Terms and Conditions of Sale, available for download under www.spradling.eu. Please follow our manufacturing and maintenance guidelines, also available...
Open the catalog to page 3
All SPRADLING catalogs and brochures
Compare up to 10 products