Catalogs

>

SIGMATHERM 500
Catalog excerpts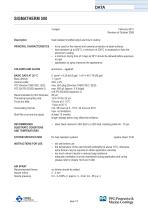 February 2013 Revision of October 2009 heat resistant modied alkyd aluminium coating PRINCIPAL CHARACTERISTICS – to be used for the internal and external protection of steel surfaces – heat resistant up to 500°C; a minimum of 200°C is necessary to fuse the aluminium coating – a minimum drying time of 3 days at 20°C should be allowed before exposure to heat – application by spray improves the appearance COLOURS AND GLOSS aluminium – eggshell BASIC DATA AT 20 °C Mass density Volume solids VOC (Directive 1999/13/EC, SED) VOC (UK PG 6/23(92) appendix 3) (1 g/cm³ = 8.35 lb/US gal; 1 m²/l = 40.7 ft²/US gal) 1.1 g/cm³ 32% ± 2% max. 561 g/kg (Directive 1999/13/EC, SED) max. 600 g/l (approx. 5.0 lb/gal) (UK PG 6/23(92) Appendix 3) 25 μm 12.8 m²/l for 25 μm 3 hours at 5- 10°C 1 hour at 20 °C min. 48 hours at 5 - 10°C, 24 hours at 20°C max. no limitations at least 12 months, longer storage period may affect the brilliancy Recommended dry lm thickness Theoretical spreading rate Touch dry after Overcoating interval Shelf life (cool and dry place) RECOMMENDED SUBSTRATE CONDITIONS AND TEMPERATURES – steel; blast cleaned to ISO-Sa2½ or ISO-Sa3, blasting prole 40 - 70 μm SYSTEM SPECIFICATION for heat resistant systems – stir well before use – the temperature of the paint should preferably be above 15°C, otherwise extra thinner may be required to obtain application viscosity – too much solvent results in reduced sag resistance – adequate ventilation must be maintained during application and curing (please refer to sheets 1433 and 1434) AIR SPRAY Recommended thinner Nozzle orice Nozzle pressure no thinner should be added 2 - 3 mm 0.3 - 0.4 MPa (= approx. 3 - 4 bar; 44 - 58 p.s.i.)
Open the catalog to page 1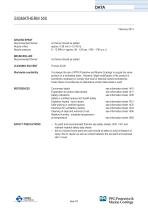 AIRLESS SPRAY Recommended thinner Nozzle orice Nozzle pressure no thinner should be added approx. 0.38 mm (= 0.015 in) 8 - 12 MPa (= approx. 80 - 120 bar; 1160 - 1740 p.s.i.) BRUSH/ROLLER Recommended thinner no thinner should be added CLEANING SOLVENT Worldwide availability It is always the aim of PPG Protective and Marine Coatings to supply the same product on a worldwide basis. However, slight modication of the product is sometimes necessary to comply with local or national rules/circumstances. Under these circumstances an alternative product data sheet is used Conversion tabels...
Open the catalog to page 2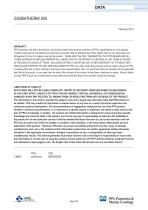 WARRANTY PPG warrants (i) its title to the product, (ii) that the quality of the product conforms to PPG's specications for such product in effect at the time of manufacture and (iii) that the product shall be delivered free of the rightful claim of any third person for infringement of any U.S. patent covering the product. THESE ARE THE ONLY WARRANTIES THAT PPG MAKES AND ALL OTHER EXPRESS OR IMPLIED WARRANTIES, UNDER STATUTE OR ARISING OTHERWISE IN LAW, FROM A COURSE OF DEALING OR USAGE OF TRADE, INCLUDING WITHOUT LIMITATION, ANY OTHER WARRANTY OF FITNESS FOR A PARTICULAR PURPOSE OR USE,...
Open the catalog to page 3
All Sigma Coatings PPG PMC catalogs and brochures

Compare up to 10 products