Catalogs

>

SWATHPLUS-2011
Catalog excerpts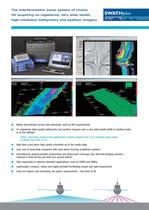 The interferometric sonar system of choice for acquiring co-registered, very wide swath, high-resolution bathymetry and seafloor imagery- SWAT Hp/us ■ Meets international survey data standards, such as IHO requirements. ■ Co-registered, high-quality bathymetry and seafloor imagery over a very wide swath width in shallow water USGS: "Operating swath of the bathymétrie system ranged from 15 to 20 times water depth in depths less than 15 m." ■ High data count gives high spatial resolution up to the swath edge. ■ Low cost of ownership compared with most beam-forming multibeam systems. Simultaneous pinging doubles productivity and along-track coverage over alternate pinging systems - reduced in-field survey and data turn-around efforts. ■ Data exportable to industry-standard applications, such as CARIS and QINSy. ■ Lightweight, compact, robust and highly portable facilitating simple and rapid deployment. ■ Does not require rack mounting; low power requirements - less than 25 W.
Open the catalog to page 1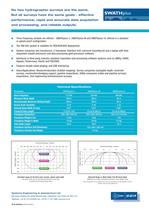 No two hydrographie surveys are the same. But all surveys have the same goals - effective performance, rapid and accurate data acquisition and processing, and reliable outputs. ■ Three frequency variants are offered - SWATHp/ws-L, SWATHp/ws-M and SWATHp/ws-H; offered in a standard ■ The 468 kHz system is available for ROV/AUV/ASV deployment. ■ System comprises two transducers, a Transducer Interface Unit, universal mounting kit and a laptop with data acquisition (swath processor) and data processing (grid processor) software. ■ Interfaces to third party, industry-standard acquisition and...
Open the catalog to page 2
All Shark Marine Technologies catalogs and brochures

Compare up to 10 products