Catalogs

>

hydraulic cruise contro
Catalog excerpts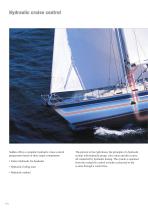 Hydraulic cruise control Seldén offers a complete hydraulic cruise control programme based on three major components: • Furlex Hydraulic for headsails • Hydraulic furling mast • Hydraulic outhaul The picture to the right shows the principle of a hydraulic system with hyd­ aulic pump, valve units and drive units, r all connected by hydraulic hosing. The system is operated from the cockpit by control switches connected to the system through a control box.
Open the catalog to page 1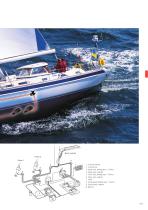 Boom outhaul Furlex 2 Furlex 1 1. Control buttons 2. Control box 3. Pump unit, furling mast + Furlex 4. Pump unit, outhaul 5. Valve unit, furling mast + Furlex 6. Valve unit, outhaul 7. Filter 8. Deck gland, furling mast + Furlex 9. Deck gland, outhaul 10. Battery
Open the catalog to page 2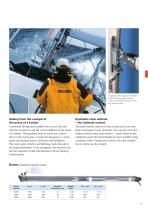 Långedrag 501 equipped with Seldén hydraulic furling mast, hydraulic o ­ uthaul and double hydraulic Furlex jib-reefing systems. Sailing from the cockpit at the press of a button A powered furling mast enables you to reef, furl and trim the sail area to suit the wind conditions at the touch of a button. The patented, built-in motor has a direct drive to the worm gear, to keep moving parts to a minimum and increase power, efficiency and reliability. The worm gear, which is self-braking, locks the sail in the required position. In an emergency, the mainsail can also be manually furled and...
Open the catalog to page 4
All Seldén Mast AB catalogs and brochures

Archived catalogs
Compare up to 10 products