Catalogs

>

Seabotix

>

VLVB 300
Catalog excerpts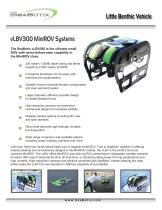 Little Benthic Vehicle vLBV300 MiniROV Systems The SeaBotix vLBV300 is the ultimate small ROV with never-before-seen capability in the MiniROV class. 300 meter (1,000ft) depth rating and tether lengths to 2,000 meters (6,000ft) 6 Powerful Brushless DC thrusters with individual oil-compensators Variable vector horizontal thruster configuration and dual vertical thrusters Larger diameter, efficient propeller design for added Bollard thrust High resolution sensors and extensive mechanical design for increased stability Multiple camera options including HD, rear and side cameras Ultra small diameter high strength, durable, low drag tether Wide range of sensors and available options including sonar, tracking, cameras and more Until now, there has never before been such a capable small ROV. True to SeaBotix' tradition of offering industry-leading and revolutionary designs in the MiniROV market, the vLBV is the world's first truly vectored MiniROV. The vLBV offers MiniROV size with big ROV performance. Adjustable variable vectored thrusters offer equal horizontal thrust in all directions, or extreme pulling power for long penetrations and high currents. High-resolution cameras and sensors combined with SeaBotix' industry-leading low drag tether make the vLBV the new standard in offshore capability and portability.
Open the catalog to page 1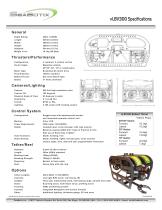 vLBV300 Specifications General Depth Rating: Thrusters/Performance Configuration: 4 vectored, 2 vertical vertran Vector Angle: Manually variable Motor Type: Brushless DC direct drive Prop Diameter: Bollard Thrust: See chart below right 650 line high resolution color Camera Tilt: Diagonal Angle of View: 2,160 Lumen LED tracking camera Control System Configuration: Rugged case with weatherproof monitor vLBV300 Bollard Thrust 100mm Props and removable operator control unit Power Requirement: Isolated input, circuit breaker, LIM, leak monitor Meets & exceeds AODC 035 "Code of Practice for the...
Open the catalog to page 2
All Seabotix catalogs and brochures

Archived catalogs
Compare up to 10 products