Catalogs

>

Seabotix

>

Navigation Wayfinder DVL
Catalog excerpts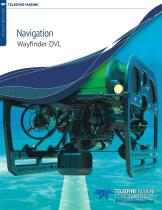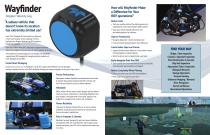 How will Wayfinder Make a Difference for Your ROV operations? Reduce Costs " subsea vehicle that A doesn't know its location has extremely limited use" • Track your position without the added expense and complexity of a Ultra Short Baseline (USBL) system • Know your vehicle altitude without the cost and added payload of an altimeter Since 1992, Teledyne RD Instruments has delivered a much-used solution to this challenge--the first high-precision Doppler Velocity Log (DVL), based on broadband signaling. Improve Productivity More than 5000 of these DVLs have been supplied worldwide, improving...
Open the catalog to page 2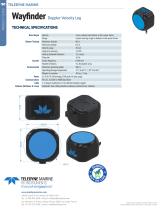 PRODUCT GUIDE TELEDYNE MARINE Wayfinder Doppler Velocity Log TECHNICAL SPECIFICATIONS Data Output Bottom Tracking Acoustic Environmental Power Communications Cable Software (WIndows & Linux) Velocity 3-axis velocity over bottom in the sensor frame Range 4 point and avg range to bottom in the sensor frame Maximum altitude 60 m Minimum altitude 0.5 m Velocity range 10 m/s Long term accuracy ±1.15% Velocity Standard Deviation 1.2 cm/sec Ping rate 16 Hz Center frequency 614.4 kHz Number of beams 4 x 2D phased-array Maximum operating depth 200 m Operating/storage temperature -5° C to 45° C /...
Open the catalog to page 3
All Seabotix catalogs and brochures

Archived catalogs
Compare up to 10 products