Catalogs

>

Seabotix

>

LBV 300-6
Catalog excerpts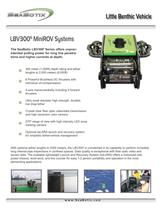 Little Benthic Vehicle The SeaBotix LBV3006 Series offers unprec- edented pulling power for long line penetra- tions and higher currents at depth. 300 meter (1,000ft) depth rating and tether 6 Powerful Brushless DC thrusters with Individual oil-compensators 4-axis maneuverability including 4 forward Ultra small diameter high strength, durable, Crystal clear fiber optic video/data transmission and high resolution color camera 270° range of view with high intensity LED array tracking camera Optional IwLARS launch and recovery system for simplistic tether/vehicle management With optional tether lengths to 2000 meters, the LBV3006 is unmatched in its capability to perform incredibly long internal pipe inspections in confined spaces. Data quality is exceptional with fiber optic video and sensor data. The available lightweight Launch and Recovery System (IwLARS) offers a motorized reel, power sheave, level-wind, and line counter for easy 1-2 person portability and operation in the most demanding applications.
Open the catalog to page 1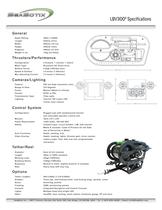 Depth Rating: Motor Type: Bollard Thrust: 4 forward, 1 vertical, 1 lateral Brushless DC direct drive Transmission Type: Control System Power Requirement: Auto Functions: Video Overlay: Working Load: Breaking Strain: Tether Lengths: 520 line High resolution color Fiber optic Tracks color camera Rugged case with weatherproof monitor and removable operator control unit Isolated input, circuit breaker, LIM, leak monitor Meets & exceeds "Code of Practice for the Safe Depth, heading, trim Depth, heading, lights, thruster gain, turns counter, camera angle, time, date and user programmable Neutral...
Open the catalog to page 2
All Seabotix catalogs and brochures

Archived catalogs
Compare up to 10 products