Catalogs

>

Seabotix

>

LBV 300-5
Catalog excerpts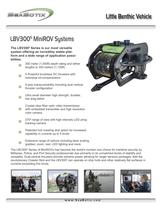 Little Benthic Vehicle The LBV3005 Series is our most versatile system offering an incredibly stable plat- form and a wide range of application possi- 300 meter (1,000ft) depth rating and tether 5 Powerful brushless DC thrusters with individual oil-compensators 4-axis maneuverability including dual vertical thruster configuration Ultra small diameter high strength, durable, Crystal clear fiber optic video transmission with embedded transmitter and high resolution color camera 270° range of view with high intensity LED array tracking camera Patented hull crawling skid option for increased capability in currents up to 5 knots Extensive range of options including laser scaling, grabber, zoom, reel, LED lighting and more The LBV3005 Series of MiniROVs has become the world's number one choice for maritime security by Militaries, Police, and Port Security professionals due primarily to its unmatched levels of stability and versatility. Dual-vertical thrusters provide extreme power allowing for larger sensors packages. Add the revolutionary Crawler Skid and the LBV3005 can operate on ship hulls and other relatively flat surfaces in currents exceeding five knots.
Open the catalog to page 1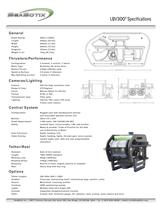 Depth Rating: Motor Type: Bollard Thrust: 2 forward, 2 vertical, 1 lateral Brushless DC direct drive Transmission Type: Control System 520 line High resolution color Fiber optic Internal 700 Lumen LED array Tracks color camera Power Requirement: Auto Functions: Video Overlay: Working Load: Breaking Strain: Tether Lengths: Rugged case with weatherproof monitor and removable operator control unit Isolated input, circuit breaker, LIM, leak monitor Meets & exceeds "Code of Practice for the Safe Depth, heading, trim Depth, heading, lights, thruster gain, turns counter, camera angle, time, date...
Open the catalog to page 2
All Seabotix catalogs and brochures

Archived catalogs
Compare up to 10 products