Catalogs

>

Scanstrut Range Overview
Catalog excerpts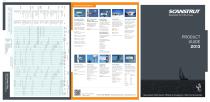 Instrument Maxi Instrument 5" Display 6.4" Display 8.4" Display 10.4" Display 12" Display 7" Display 8" Display 10.4" Display 10.4" Display 12" Display 15" Display 9" Display 12" Display Instrument Maxi Instrument Instrument Instrument Instrument Maxi Instrument NX, NX2 Digital, NX2 Analogue inst NX2 Multi XL / NXR Multi *Not compatible with Furuno 19" DRS2D Part Number Guide Displays & Instruments X X X X X X X SPD-8D-W SPD-12D-W X X X X X SPD-7-W X X X X SPD-8-W SPD-12-W X X X X X X X X X X X * Please note Compact 8" Helm Pod fits 6-8" centre pedestal rails. To fit rails from 7" upwards please order SPH-8D-W. 1 xinstru 1 x instru 7" POD (Rail (Rail arm A rm (Rail) 8" Pod 12" Pod 15" Pod Mount) Mount) Mounted For all 8" Pods For all 12" Pods For all 15" Pods For all System Pods For all Maxi 2 Instrument Pods For all Maxi 3 Instrument Pods For all 3 Instrument Helm & Mast Pods For all 4 Instrument Helm & Mast Pods Polished stainless guards protect radome from damage and reduce wear on the sails. Quick release pins allow easy removal for storage. Marine Electronics Mounts | Scanstrut Accessories | Electrical Accessories +44 (0) 1803 863800 sales@scanstrut.com www.scanstrut.com Scan to view Scanstrut Video channel Angles your radar down 4° below horizontal providing a level horizon for your radar when the boat is bow's up underway. Ideal for lifting heavy outboards, luggage, supplies etc on board up to 30kg (66lbs) in weight. Order info 50100 Mast Mount Adapter Kit Order info SC120 For use with SC100 Pole Mount Radar Guard High performance, 55W sealed beam halogen deck light. Order info PT3010 For Composite & Aluminium PowerTower SC120-4 For use with SC2 Pole Mount Order info Mast Compatible Mount Radar Guard Fits under PowerTower with a base seal to ensure a watertight install. Mounted using radome bolts, no extra fastenings required. 4° Base Wedge Lifting Crane S PR-1i-RM X X X X X S PR-1i-RM X Only compatible as part of a radome installation. For masts with an integral track at the front which makes it difficult to fit a Scanstrut Mast Mount such as Z-Spars, Selden, Isomat and Eurospars Masts. SC117-4 For use with SC2 Pole Mount SC113 Pre-fitted Hella Marine NaviLED 360° all round white light (Mount port side of radar) 12" Display 7" Display 9" Displays 12" Displays 15" Display Instrument Maxi Instrument 6" Display Maxi Instrument Instrument Display Instrument 7" Display 8" Display 10" Display 12" Display 15" Display Instrument 8" Display 12" Display 7" Display 8" Display 12" Display Instrument Instrument SPH-SY STEM-W Helm Pod - Fits 2 x Std Instruments + 12" Display / 4 x Std Instruments + 8" Display SPH-4 XI-W Helm Pod - Fits 4 x Std Instruments / 2 x Std Instruments + 7" Display SPD-4 XI-W Deck Pod - Fits 4 x Std Instruments / 2 x Std Instruments + 7" Display SC112 For GPS / VHF Antenna (Mount port side of radar) Mast Mount Adapter Kit Deck Flood Light Order info SC117 For use with SC100 Pole Mount Mounts anchor lights, all round white lights, steaming and aft lights. PRODUCT GUIDE 2013 Combined mounting solution for all navigation and search lights. SC50 Compatible with SC35, SC45, SC45R and SC65 Satcom Mounts only Order info LM-GPS For all Leveller models Attach using radar mounting bolts, no extra fastenings required. (1" x 14 tpi thread) Single mount for installing an additional GPS / VHF antenna above the radar. (1" x 14 tpi thread) Order info Gantry Mount for Dual PowerTower® SC111 For GPS / VHF Antenna (Mount starboard side of radar) Satcom antennas require a horizontal mounting surface to function correctly. Order info SC118 For Aluminium and Stainless PowerTower A neat solution for securing antenna cables down the outside of the mast - simply rivet the back section to the mast, lay the cables in and snap the cover on. Install Nav Light, GPS or VHF antennas above the radar for maximum visibility and performance. Simply counter rotate the angled discs until the top surface is horizontal. Order info SC33 Up to 14mm (0.55") cables Satcom wedges eradicate this problem by providing a level mounting on slopes from 0° to 12°. Only compatible as part of a radome installation. Order info SC110 For Nav Lights (Mount port side of radar) Adjustable Base Wedge Combined mounting solution for navigation and search lights, GPS and VHF antenna. Cable Conduit Gantry Mount for PowerTower® GPS / VHF Antenna Mount for SelfLevelling Radar Mount Nav Light and GPS / VHF Antenna Mount IS70 / IS80 NSE-8 NSE-12 NSS-7 NSS-8 NSS-12 AP24 AP28 Scanstrut Accessories
Open the catalog to page 1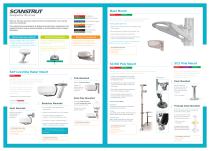 Scanstrut Product Key Satcom/tv For Radar & Satcom/tv antenna With over 25 years experience, make Scanstrut an essential part of your marine electronics installation. Fully endorsed and recommended by all leading marine electronics manufacturers, the complete Scanstrut range is stocked worldwide via an international network of expert distributors. Lights Instruments Displays Mast Mount Radomes Still the first choice for boat owners the world over, Scanstrut leads the way with a new generation of Mast Mounts. Stronger. Lighter. Easier to fit. • Attaches to mast with four swivel feet,...
Open the catalog to page 2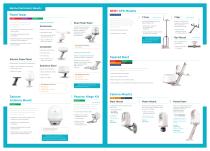 Marine Electronics Mounts PowerTower Radomes Open array Install your antenna on the cabin roof, flybridge or radar arch of your powerboat. • Antenna fastens to PowerTower using own mounting bolts. Stronger for heavier equipment. • Pre-drilled mounting holes for ease of installation. • IP65 gland supplied to seal cable into stem for internal cable management. • Watertight base seal included – no need for messy sealant. Aluminium • White powder coated. • 25° forward leaning (30° aft leaning for open array). Dual PowerTower Elevating the satcom antenna above the radar eliminates antenna...
Open the catalog to page 3
All Scanstrut catalogs and brochures
Archived catalogs

Compare up to 10 products