Catalogs

>

eWROV
Catalog excerpts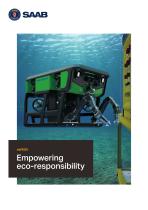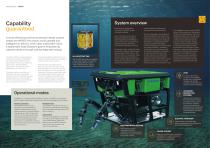 SAAB SEAEYE > eWROV SAAB SEAEYE > eWROV Capability guaranteed System overview Requiring less maintenance than ever, the eWROV system is inherently reliable. Electric thrusters are the key to electrifying WROVs; capable of generating 560 kgf, the eWROV's power efficiency is far greater than hydraulic systems, with better acceleration, braking and reversal. A more efficient and environmentally friendly system makes the eWROV the world's most capable and intelligent all-electric, work-class underwater robot. It epitomises Saab Seaeye's goal of empowering subsea robotics through cutting-edge...
Open the catalog to page 2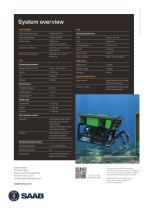 Brochure, eWROV – EN – January 2021 System overview Nominal vehicle power General specification Peak vehicle power Depth rating Operating conditions 3 g vertical 1 g horizontal (Sea State 6) Electrical input (mains) Depth rating Tether capacity ROV General specification Dimensions (L x W x H) Performance Forward/aft speed Lateral speed Vertical speed SURFACE CONTROLS Local control Saab Seaeye Pilot Console (Pilot chair optional) Onshore control Saab Seaeye Pilot Console (Pilot chair optional) Bollard pull Forward/aft Auto function control Standard Auto heading, auto depth, auto altitude,...
Open the catalog to page 3
All Saab Seaeye catalogs and brochures
Compare up to 10 products