Catalogs

>

RESOLTECH 3050C
Catalog excerpts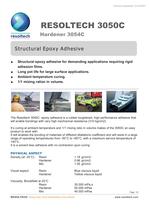 Technical datasheet 01/01/2007 RESOLTECH 3050C Hardener 3054C Structural Epoxy Adhesive Structural epoxy adhesive for demanding applications requiring rigid adhesion films. Long pot life for large surface applications. Ambient temperature curing. 1/1 mixing ration in volume. The Resoltech 3050C epoxy adhesive is a rubber toughened, high performance adhesive that will enable bondings with very high mechanical resistance (310 kg/cm2). It's curing at ambient temperature and 1/1 mixing ratio in volume makes of the 3050C an easy product to work with. It will enables the bonding of materials of different dilatations coefficient and will resist in a large range of operating temperatures from -50°C to +80°C, with a maximum service temperature of 140°C. It is a solvent less adhesive with no contraction upon curing. PHYSICAL ASPECT Density (at 25°C) Resin Hardener Mix Visual aspect: Resin Hardener Viscosity, Brookfield at 25°C Resin Hardener Mix: 1,18 gr/cm3 0,96 gr/cm3 1.05 gr/cm3 Blue viscous liquid Yellow viscous liquid 35.000 mPa.s 50.000 mPas 40.000 mPas RESOLTECH RESOLVING YOUR ENGINERING CHALLENGES Page 1/3 www.resoltech.com
Open the catalog to page 1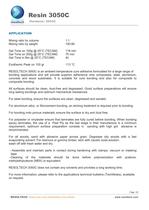 Resin 3050C Hardener 3054C APPLICATION Mixing ratio by volume Mixing ratio by weight 1:1 100:80 Gel Time on 100g @ 25°C (TECAM) Gel Time on 250g @ 25°C (TECAM) Gel Time in film @ 25°C (TECAM) 118 min 75 min 4h Exothemic Peak on 100 gr. 113 °C RESOLTECH 3050C is an ambient temperature cure adhesive formulated for a large range of bonding applications and will provide superior adherence onto composites, steel, aluminium, concrete and wood substrates. It is suitable for core bonding and also for composite to composite bonding. All surfaces should be clean, dust-free and degreased. Good surface...
Open the catalog to page 2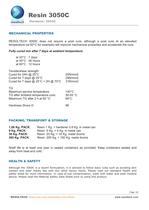 Resin 3050C Hardener 3054C MECHANICAL PROPERTIES RESOLTECH 3050C does not require a post cure, although a post cure at an elevated temperature (at 60°C for example) will improve mechanical properties and accelerate the cure. Fully cured mix after 7 days at ambient temperature: at 20°C : 7 days at 40°C : 48 hours at 60°C : 12 hours Tensile/shear strength: Cured for 24H @ 25°C Cured for 7 days @ 25°C Cured for 7 days @ 25°C + 2H @ 70°C 20N/mm2 29N/mm2 31N/mm2 TG Maximum service temperature TG after ambient temperature cure: Maximum TG after 2 h at 60 °C 140°C 50-55 °C 66°C Hardness Shore D 68...
Open the catalog to page 3
All RESOLTECH catalogs and brochures
Archived catalogs
Compare up to 10 products