Catalogs

>

RESOLCOAT 9040PX
Catalog excerpts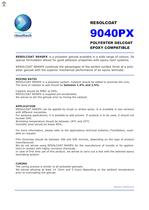 POLYESTER GELCOAT EPOXY COMPATIBLE RESOLCOAT 9040PX is a polyester gelcoat available in a wide range of colours. Its special formulation allows for good adhesion properties with epoxy resin systems. RESOLCOAT 9040PX combines the advantages of the perfect surface finish of a poly- ester gelcoat with the superior mechanical performance of an epoxy laminate. MIXING RATIO RESOLCOAT 9040PX is a polyester system. Catalyst should be added to promote the cure. The level of catalyst to add should be between 1.5% and 2.5%. Catalyst should be PMEC at 50%. RESOLCOAT 9040PX is supplied pre-accelerated. We advise to stir the gelcoat prior to mixing the catalyst. RESOLCOAT 9040PX can be applied by brush or airless spray. It is available in two versions with different viscosities. For spraying applications, it is possible to add solvent. If acetone is to be used, it should not Workshop temperature should be between 18°C and 25°C. Humidity level should be below 85%. For more information, please refer to the applications technical bulletins (TechNotes), avail- Film thickness should be between 300 and 500 microns, depending on the type of product We do not advise using RESOLCOAT 9040PX for the manufacture of moulds or for applica- tions in contact with highly corrosive chemicals. In case of first time use of this product, we advise to carry out a test with the selected epoxy laminating system. The curing process is similar to all polyester gelcoats. We advise allowing at least 1H 15mn and 3 hours depending on the ambient temperature prior to overcoating the gelcoat.
Open the catalog to page 1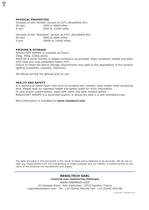 PHYSICAL PROPERTIES Viscosity of the "Airless" version at 23°C (Brookfield RV): Viscosity of the "Standard" version at 23°C (Brookfield RV): PACKING & STORAGE RESOLCOAT 9040PX is available as follow: Shelf life is three months in sealed containers as provided. Keep containers sealed and away from heat and cold, preferably below 25°C. Failure to follow the above storage requirements may lead to the degradation of the product (gelling properties, viscosity, reactivity). We advise stirring the gelcoat prior to use. It is advised to follow basic rules such as avoiding skin contact, wear masks...
Open the catalog to page 2
All RESOLTECH catalogs and brochures
Archived catalogs
Compare up to 10 products