Catalogs

>

Ozone

>

Reo-info
Catalog excerpts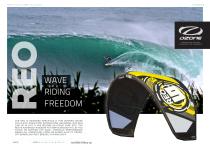 PHOTO: CHRIS STROH RIDER: BRAD HAMPSON THE REO IS DESIGNED SPECIFICALLY FOR SURFING WAVES WITH A KITE. SINCE FIRST INTRODUCING THIS MODEL INTO OUR LINE UP IN 2012 IT HAS BECOME AN ICONIC SURF KITE. THE REO IS ADVANCED IN DESIGN YET SIMPLE ENOUGH TO LET YOU FOCUS ON SURFING THE WAVE. VERSATILE PERFORMANCE MAKES ALL CONDITIONS, FROM ON-SHORE SLOP TO CROSS- OFF BARRELING REEF BREAKS, FUN AND EASY.
Open the catalog to page 1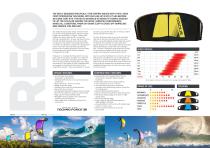 The Reo is designed specifically for surfing waves with a kite. Since first introducing this model into our line up in 2012 it has become an iconic surf kite. The Reo is advanced in design yet simple enough to let you focus on surfing the wave. Versatile performance makes all conditions, from on-shore slop to cross-off barreling reef breaks, fun and easy. The relatively low aspect design combined with fast direct handling generates consistent power to get around sections in a wave. Finely tuned profiles and wing shaping offer unmatched drifting characteristics - as you ride down the line...
Open the catalog to page 2
All Ozone catalogs and brochures

Archived catalogs
Compare up to 10 products