Catalogs

>

Ozone

>

R1
Catalog excerpts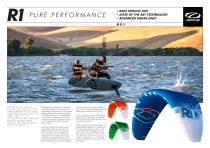 pure performance // photo// michael Petrikov team riders// chip wasson johnny heineken • Race specific kite • State of the art technology • Advanced riders only Pa c k e d w i t h s tat e o f t h e a r t t e c h n o l o g y, t h e n e w g e n e r at i o n o f u lt r a high performance kite is here…the R1. The R1 was born through radical design ideas during the development of the Chrono. Developed without compromise using proven Chrono technology, the R1 produces breath taking speed and performance. The ultra clean leading edge, smooth surfaces and number of cells give an insight into its capabilities. But it's what you can't see that makes this race focused kite so special, the feeling on the bar and the responsiveness of this high aspect wing is unique. Our newly calculated sail tension brings a level of stability that surpasses every high performance kite we have ever produced by far. Combined with new diagonal ribs, a high aspect ratio planform, reduced cell width and a new high performance profile the boundaries of performance have been redefined again. The R1 is truly a race pedigree performance kite that will inspire confidence to the rider while delivering outstanding racing performance on the water, land or snow. The R1 is for advanced riders only who have previous foil kite experience. It is not difficult to fly but there are techniques required to fly a high aspect ratio foil kite. The R1 will require maintenance just like any high performance equipment in racing sports, for example replacing tyres or piston rings on motorbikes. The R1's Speed System and Bridle Lines must be checked after every 60 hours flying time, if they are worn or are not to factory specifications (+ or - 10mm) they must be replaced or the kite will not perform as designed.
Open the catalog to page 1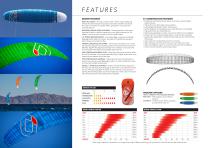 features DESIGN FEATURES high Cell Count - The high number of cells in the R1 reduces ballooning between the cells holding the wing shape and surfaces smoother and cleaner. This creates a reduction in turbulent airflow, giving the R1 more speed and increased depower. • xceptional hand checked Ozone factory construction using the highest E quality materials • igh performance light weight canopy material H • eading Edge profile plastic batten reinforcements L • nternal diagonals and strapping improve load distribution and durability I • igh performance low-drag bridle lines H • ptimised...
Open the catalog to page 2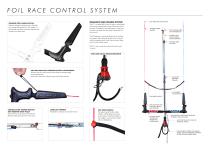 Foil Race Control System RELAUNCH AND RELEASE SYSTEM Stainless Steel Leader Line Pin Superior strength is achieved with a Stainless pin running through the bar. This creates an ultra strong and direct connection between the control bar to flying lines. The R1 is a closed cell foil and is water re-launchable, but we recommend that you keep it flying and out of the water if possible! A drainage system on the wing tip allows any water that may have entered the kite to drain out. • Low Drag Race Flying Lines • Colour coded leaders • cast Stainless Steel de-power bracket • Double pulley system...
Open the catalog to page 3
All Ozone catalogs and brochures

Archived catalogs
Compare up to 10 products