Catalogs

>

UpSideUp Super Yacht
Catalog excerpts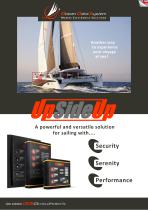 Electronic Marine: Solutions HEEL / PITCH STANDING RIGGING 1 Mainsail Jibl Jib2 Genaker Remote displays Monitoring of "above deck" systems Sails control at the fingertips Crew and boat security Multipurpose data logging Ocean Data System is a leader in state-of-the-art automated instrumentation & monitoring for sailing yachts. Thanks to the UpSideUp solution and our worldwide expertise, we help owners, crews, designers and contractors use accurate information to ... • enhance sailing experience, • improve the security, Pressure \ sensors • manage the yacht, • validate design assumptions.
Open the catalog to page 1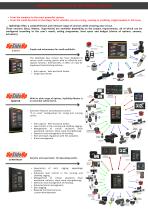 Main func%ons and key arguments development. Real- me load data allows the crew to maintain op mal sailing condi ons without compromising vessel safety. • General monitoring : Appendages posi on, halyard hooking, nav lights, any components on board can poten ally be supervised by the UpSideUp. Security : UpSideUp helps the crew in cri cal situa on like Man Over board event. It can early detect capsizing situa on, bilge down flooding, imminent collision, structural part braking… and ac vate automa cally the right process to avoid serious consequences. Processes control : Easy to handle, finger...
Open the catalog to page 2
All Ocean Data System catalogs and brochures

Compare up to 10 products