Catalogs

>

O-Yachts

>

Class 6
Catalog excerpts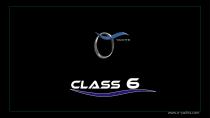 SPECIFICATIONS Class 6 Certif CE Cat A - 5 years structure guarantee 17.9 minimum and 19.5 with long tail Light: 13 T Load capacity: 5.5 T Bridgedeck clearance Black and Grey water Main sail area Solent self taking O Yachts - Laurent BOURGNON Naval architecture Schickler Tagliapetra - Isvoranu E-mail: info@o-yachts.com | Phone: (33) 699 40 3456, (371) 29213550 | www.o-yachts.com O Yachts - Andrei Trofimchouk Warranty Based in Latvia to achieve perfect finish with Baltic culture, our 3000m2 shipyard is specialized in infusion building to achieve perfect catamarans. As standard we offer 5 years structural warranty. Carbon and hand lamination We are one of few shipyards to offer Carbon for structure and complete hand lamination of non structural parts as standard. Interior furniture such as bed, cabinets… are not just bonded but «hand laminated» with resin and glass. This is making O Yachts catamaran solid as a rock. You will be amazed by silence when walking in hull - no crack - no noise! Weight is security Anyone who knows about catamarans is concerned about weight. This is the only way to achieve high performance. That is not only a matter of pleasure, since speed is one of the most important factors when it comes to your security and to the security of the ones you love. You must be able to join a safe place in the shortest time, even with bad weather forecast. At O Yachts we have a real culture for weight control - just compare our numbers. Naval Architecture To pass from design to reality we needed architects with deep knowledge on both catamaran and composite structure. Doug Schickler and David Tagliapietra are highly experienced and put together a perfect team, managing both structure and hull optimization on project.
Open the catalog to page 1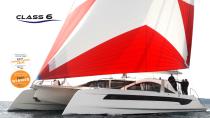 Where most catamarans keep the old design with mast load on a transversale beam; O Yachts Class 6 offers longitudinal beam. This solution has also been adopted on America's Cup catamarans. This is like a spine from the very front to carry forestay load, to aft for main sheet load. 3 cabins - Forward cockpit Your choice for front area HUGE LOCKER As standard Class 6 offers an extra central space for sails, fenders, generator… this is safe and easy to access. On both sides, you have sun bed. Locker Locker So many advantages : • larger living area for your saloon and kitchen • better sea...
Open the catalog to page 2
Compare up to 10 products