Catalogs

>

Nichols

>

Company brochure
Catalog excerpts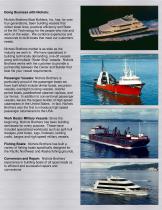 Doing Business with Nichols: Nichols Brothers Boat Builders, Inc. has, for over four generations, been building vessels that reflect sleek lines, practical efficiency and State of the Art Technology for the people who ride and work on the water. We combine experience and resources to build boats that meet our customers' needs. Nichols Brothers market is as wide as the industry we work in. We have specialized in building technically demanding, one-off vessels along with multiple "Sister Ship" vessels. Nichols Brothers works with the customer to provide a partnership between the Owner and...
Open the catalog to page 2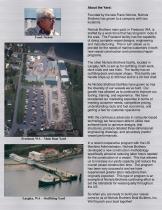 About the Yard: Founded by the late Frank Nichols, Nichols Brothers has grown to a company with two locations. Frank Nichols Nichols Brothers main yard, in Freeland, WA, is staffed by a work force that has long term roots in the area. The Freeland facility has the capability of doing complete vessel designs, engineering and manufacturing. This in turn allows us to provide for the needs of marine customers in both new vessel construction and conversion/repair programs. The other Nichols Brothers facility, located in Langley, WA, is set up for outfitting, finish work, dock trials and sea...
Open the catalog to page 3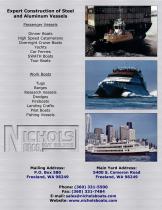 Expert Construction of Steel and Aluminum Vessels Passenger Vessels Dinner Boats High Speed Catamarans Overnight Cruise Boats Yachts Car Ferries SWATH Boats Tour Boats Work Boats Tugs Barges Research Vessels Dredges Fireboats Landing Crafts Pilot Boats Fishing Vessels Main Yard Address: 5400 S. Cameron Road Freeland, WA 98249 Phone: (360) 331-5500 Fax: (360) 331-7484 E-mail: sales@nicholsboats.com Website: www.nicholsboats.com
Open the catalog to page 4
All Nichols catalogs and brochures

Compare up to 10 products