Catalogs

>

Navitron

>

NT990BNWAS
Catalog excerpts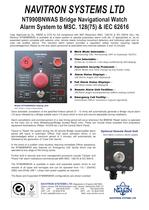 NAVITRON SYSTEMS LTD NT990BNWAS Bridge Navigational Watch Alarm System to MSC. 128(75) & IEC 62616 Type Approved by GL, RMRS & CCS for full compliance with IMO Resolution MSC. 128(75) & IEC 62616 (GL), the Navitron NT990BNWAS is available as a basic system to operate proprietary alarm units etc. (if appropriate) or, as an expanded system complete with selector units, remote resets including movement detectors and individual cabin and /or crew call audible alarms. The resultant alarm system provides a regulation safety monitor requiring regular acknowledgement (Reset) by the duty watch personnel at selectable time intervals between 3 and 12 minutes. Once activated, completion of the specified timeout period (3 - 12 mins) will automatically generate a Bridge visual alarm (15 secs) followed by a Bridge audible alarm (15 secs) which is tone and volume adjustable during installation. Alarm cancellation and commencement of a new timing period will occur whenever the BNWAS 'Reset' button is operated on the main unit or other Wheelhouse/Bridge located Reset units. These can include those available from proprietary equipment workstations (Radar / ECDIS etc.) and the Central Alarm Panel. Failure to 'Reset' the system during the 30 second Bridge visual/audible alarm period will result in automatic 'Officer Call' alarm activation which, if not acknowledged within a maximum period of 3 minutes, will automatically be followed by the generation of 'Crew Call' alarms. In the event of a sudden crisis situation requiring immediate Officer assistance, the NT990BNWAS also features an 'Emergency Call' facility which may be operated at any stage of the timing cycles. Further built in security and error management provisions include 'Tamper' and 'Power Fail' alarm indications commensurate with MSC. 128(75) & IEC 62616. The NT990BNWAS is available in basic and expanded system forms to suit vessels of all types and tonnages and can be operated from 115 / 230VAC (DB2) and 24Vdc (DB 1 ) ships main power supplies as required. The Basic and Expanded NT990BNWAS configurations are shown overleaf. NAVITRON SYSTEMS LTD (Registered in England 2607869) Osborn House, 25E Brockhampton Lane, Havant, Hampshire PO9 1JT TEL: (UK) 023 9249 8740 FAX: (UK) 023 9249 8783 (INT) +44 23 9249 8740 (INT) +44 23 9249 8783 E-mail: sales@navitron.co.uk Web: www.navitron.co.uk
Open the catalog to page 1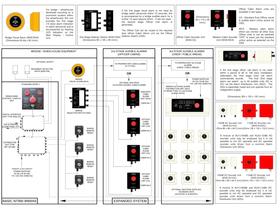 Bridge Visual Alarm (WAS BVA) (Dimensions 93 dia x 65 (mm)) For bridge / wheelhouse deckhead mounting (or a prominent location within the wheelhouse) this unit provides the first stage (15 secs) alarm indication to watch personnel and is accompanied by flashing LED indication on the Main Display / Control Unit. If the first stage visual alarm is not reset by bridge watch personnel within 15 seconds, this is accompanied by a bridge audible alarm for a further 15 secs beyond which - if still not reset the second stage Officer Call alarm is generated. The Officer Call can be routed to the...
Open the catalog to page 2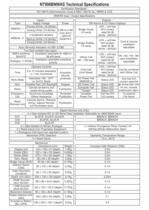 NT990BNWAS Technical Specifications Certification Standards:IEC 62616 (Germanischer Lloyd) & MSC.128(75) GL, RMRS & CCS BNWAS Input / Output Specifications Type BNWAS / 1 BNWAS / 2 Inputs: Supply Voltage Primary 24Vdc (18-36Vdc) Power Emerg 24Vdc (18-36Vdc) 3.2W to 4.5W (max illum) 115/230VAC 50/60Hz + optional equipment Backup 24Vdc (18-36Vdc) Emerg 24Vdc (18-36Vdc) Auto (Remote) Activation via DB1 & DB2 Two Opto isolated input types: NMEA sentence Installation selectable for 4800 or $XXHTD 38,400 baud Installation selectable switchline Analogue 11-40Vdc polarity Outputs: DB Alarms & CU...
Open the catalog to page 3
All Navitron catalogs and brochures

Compare up to 10 products