Catalogs

>

E-525 Electric Fin Stabilizer
Catalog excerpts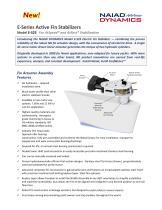 Introducing the NAIAD DYNAMICS Model E‐525 Electric Fin Stabilizer — combining the proven reliability of the robust ND fin actuator design, with the convenience of all‐electric drive. A single AC servo motor driven linear actuator generates the torque of two hydraulic cylinders. Originally developed in 2008 for Naval applications, now adapted for luxury yachts. With more systems in service than any other brand, ND product innovations are earned from real‐life experience, analysis, and constant development. Install Naiad, Instill Confidence™ Fin Actuator Assembly Features AC Servo Motor Linear Actuator Robust Sealed Feedback Assembly Much lower profile than other electric stabilizer brands. Available in two motor size options: 7.5kW and 11 kW to suit the application. Highest quality materials and workmanship. Aerospace grade machining in‐house to US military standards. ISO 9001:2008 certified facility. Oversized Spherical Roller Bearing Rod End High Grade Cast Housing Industry first heavy‐duty tapered roller bearing construction, fully pre‐assembled and sealed at the Naiad factory for easy installation. Compare to inexpensive and wear‐prone plain bearings/bushings. Greased for life, no annual main bearing maintenance required. Double lower shaft seals encased in an easily accessible precision‐machined stainless steel housing. Fins can be manually centered and locked. Proven hydrodynamically‐efficient foil section designs. Stainless steel Tip Fence (shown), proportionately sized and validated for performance. Advanced composite fin construction is galvanically inert and features an encapsulated stainless steel insert with precision machined self‐locking keyless taper. Steel fins optional. Keyless taper allows freedom to install the NAIAD Assembly in any 360° orientation to simplify installation and maximize accessibility, plus allows the fins to be aligned and realigned in any desired position to suit hull flow lines. Robust fin construction is damage resistant, but designed to yield safely to severe impacts. First choice among discriminating yacht owners and ship builders throughout the world.
Open the catalog to page 1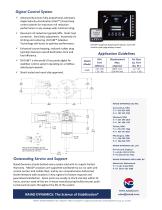 Digital Control System Advanced & proven fully proportional automatic Angle‐Velocity‐Acceleration (AVA™) closed loop control system for maximum roll reduction performance in any seaway with minimum drag. Resonant roll reduction typically 90%. Static heel correction. Sensitivity adjustment. Automatic fin limiting and centering. DATUM™ Adaptive Technology self‐tunes to optimize performance. DATUM™ graphical display panel options, each with intuitive multi‐page display screens. Enhanced course‐keeping, reduced rudder drag typically improves overall destination time and ...
Open the catalog to page 2
All NAIAD DYNAMICS catalogs and brochures

Compare up to 10 products