Catalogs

>

Active Fin Stabilizers 1050 - 1200 - 1400
Catalog excerpts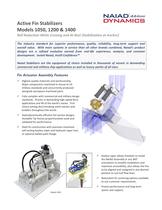 Active Fin Stabilizers Models 1050, 1200 & 1400 Roll Reduction While Cruising and At Rest (Stabilization at Anchor) The industry standard for superior performance, quality, reliability, long‐term support and overall value. With more systems in service than all other brands combined, Naiad's product designs are a refined evolution earned from real‐life experience, analysis, and constant development. Install Naiad, Instill Confidence™ Naiad Stabilizers are the equipment of choice installed in thousands of vessels in demanding commercial and military ship applications as well as luxury yachts of all sizes. Fin Actuator Assembly Features Highest quality materials and workmanship. Major components machined in‐house to US military standards and concurrently produced alongside aerospace machined parts. Fully complies with commercial and military design standards. Proven in demanding high‐speed ferry applications and 46 of the world's navies. First choice among discriminating yacht owners and builders throughout the world. Hydrodynamically‐efficient foil section designs. Available Tip Fences proportionately sized and validated for performance. Steel fin construction with precision machined self‐locking keyless taper and hydraulic taper lock, or optional bolted palm flange. Keyless taper allows freedom to install the NAIAD Assembly in any 360° orientation to simplify installation and maximize accessibility, plus allows the fins to be aligned and realigned in any desired position to suit hull flow lines. Redundant fin centering options available to suit customer requirements. Model 1050 Proven performance and long‐term spares and support.
Open the catalog to page 1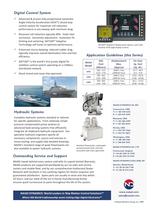 Digital Control System Advanced & proven fully proportional automatic Angle‐Velocity‐Acceleration (AVA™) closed loop control system for maximum roll reduction performance in any seaway with minimum drag. Resonant roll reduction typically 90%. Static heel correction. Sensitivity adjustment. Automatic fin limiting and centering. DATUM™ Adaptive Technology self‐tunes to optimize performance. Enhanced course‐keeping, reduced rudder drag typically improves overall destination time and fuel efficiency. DATUM™ is the world's first purely digital fin ...
Open the catalog to page 2
All NAIAD DYNAMICS catalogs and brochures

Compare up to 10 products