Catalogs

>

MTU

>

MTU Diesel Engines 12V 4000 M73/M73L for Fast Vessels with High Load Factors (1B)
Catalog excerpts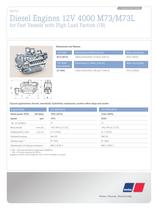 ATOGNUM GROUP BRAND for Fast Vessels with High Load Factors (IB) with Gearbox Typical applications: Ferries, monohulls, hydrofoils, catamarans, surface effect ships and yachts Engine Model Rated power ICFN Displacement, total Flywheel housing Optimization of exhaust emissions" 1) IMO - International Maritime Organization (MARPOL) 2) gearbox variants "Down Angle (A)" and "V-Drive" available on request Power. Passion. Partnership.
Open the catalog to page 1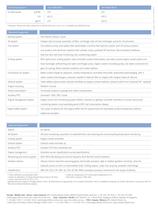 Tolerance +5% per ISO 3046, Diesel fuel to DIN EN 590 with a min L.H.V. of 42800kJ/kg (18390 BTU/lb) Standard Equipment Starting system Fuel system Cooling system Exhaust system Engine mounting Power transmission Engine management system Engine safety system ntegral lube-oil pump; automatic oil filter, centrifuge, lube oil heat exchanger, pump for oil extraction Fuel delivery pump, fuel duplex filter (switchable), Common Rail injection system with HP pump, pressure accumulator and electronic injection with cylinder cutout, jacketed HP fuel lines, flame-resistant hoselines, leak-fuel tank...
Open the catalog to page 2
All MTU catalogs and brochures

Compare up to 10 products