Catalogs

>

MTU

>

MTU Diesel engines 12V 4000 M53/M63 for Vessels with Unrestricted Continuous Operation (1A)
Catalog excerpts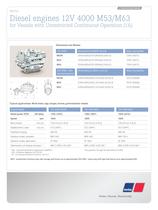 for Vessels with Unrestricted Continuous Operation (1A) standard gearbox Typical applications: Work boats, tugs, barges, ferries, governmental vessels Engine Model Rated power ICFN Flywheel housing Gearbox model, standard Gearbox model, alternative Optimization of exhaust emission 1) ]) IMO - International Maritime Organisation (MARPOL) EU - EU Nonroad Directive 97/68/EC, Tier III A 2) Recognitation througth the RheinSchUO (CCNR) M53 - unrestricted continous duty with average load factors up to approximately 90%; M63 - heavy duty with high load factors up to approximately 80% Power. Passion. Partnership.
Open the catalog to page 1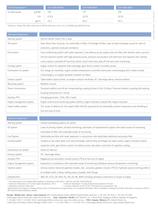 Tolerance +5% per ISO 3046, Diesel fuel to DIN EN 590 with a min L.H.V. of 42800kJ/kg (18390 BTU/lb) Standard Equipment Starting system Fuel system Cooling system Exhaust system Mounting system Power transmission Engine management system Engine safety system Optional Equipment Starting system Fuel System Cooling system Exhaust system Engine management system Gearbox option Electric starter motor 24V, 2 pole Gear driven lube oil pump, non switchable oil filter, Centrifugal oil filter, lube oil heat exchanger, pump for lube oil extraction, opened crankcase ventilation Fuel conditioning system...
Open the catalog to page 2
All MTU catalogs and brochures

Compare up to 10 products