Catalogs

>

6 M33.2 Propulsion Engine
Catalog excerpts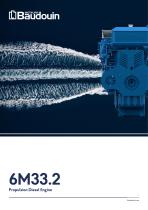 Marine Engines 150 x 185 mm 6 in line 19,6 litres 15/1 counterclockwise 650 rpm SAE 1 SAE 14'' 6 M33.2 4 Stroke diesel engine, direct injection Bore and stroke Number of cylinders Total displacement Compression ratio Engine rotation (ISO 1204 standard) Idle speed Flywheel housing Flywheel Continuous compact power with reference torque performance in its category Global environment care with low exhaust emissions and controlled fuel consumption at any running cycle Simple technology with mechanical injection Life cycle cost efficiency with extended mean time between overhauls (MBTO) Reference conditions Ambient temperature 25 °C / 77 °F Barometric pressure 100 kPa Fuel oil Relative density Lower calorific power Consumption tolerances Inlet limit temperature Our ratings also comply with classification societies maximum temperature definition without power derating. Ambient temperature 45 °C / 113 °F Raw water temperature 32 °C / 90 °F
Open the catalog to page 1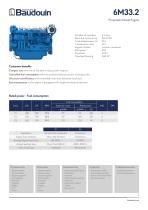 Standard equipment Cooling system Fresh / raw water heat exchanger with integrated thermostatic valves and expansion tank Cast iron centrifugal fresh water pump, mechanically driven Bronze self-priming raw water pump, mechanically driven Lubrication system Full flow screwable oil filters Fresh water cooled lube oil cooler Lube oil purifier with replaceable cartridge Manual prelubricating oil pump Fuel system In-line injection pump with flanged mechanical governor Double wall injection bundle with leakage collector Duplex fuel filters replaceable while engine running Intake air and exhaust...
Open the catalog to page 2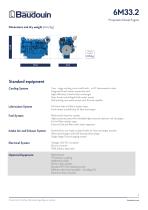 Société Internationale des Moteurs Baudouin Technoparc du Brégadan - 13260 Cassis - France - Tel. +33 488 688 500 - Baudouin.com M.D.165.EN.11.19 Moteurs Baudouin reserve the right to modify these specifications, without notice. Document not contractual.
Open the catalog to page 3
All Moteurs Baudouin catalogs and brochures

Compare up to 10 products