Catalogs

>

Specification sheet - S16R2-T2MPTAW (marine generator)
Catalog excerpts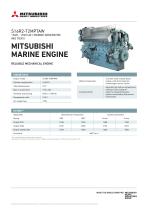 1568 - 1960 kW | MARINE GENERATOR IMO TIER II MITSUBISHI MARINE ENGINE RELIABLE MECHANICAL ENGINE ENGINE DATA Engine model Cylinder configuration Compression ratio separate high and low temperature cooling circuit; charge air cooler by closed freshwater system controlled by thermostat (intercooler) 4-stroke, water-cooled diesel engine, with direct-injection, turbocharger and air-cooler Cooling method Total displacement Diesel-Electric Propulsion Auxiliary Generator For rating definitions, please see our website. Atmospheric condition: barometic pressure: 100kPa, ambient temperature: 298K, relative humidity: 30%. © Mitsubishi Turbocharger and Engine Europe B.V. | This specification may be revised without prior notice. All pictures shown are for illustration purpose only.
Open the catalog to page 1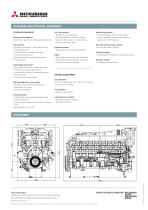 STANDARD AND OPTIONAL EQUIPMENT STANDARD EQUIPMENT Governor (mandatory) • Electronic governor, with speed control box Fuel system • Flexible fuel supply - and return hoses • Fuel feed pumps • Fuel fine filters, change-over type • Fuel injection pumps • Dual walled high-pressure fuel lines • Fuel injectors Lubricating oil system • Wet type oil pan with inspection covers • Oil pressure pump, gear driven • Lubricating oil filters, change-over type • By-pass filter • Oil cooler with thermostat Starting and electrical system • Electric starter (Earth floated 24V) • Alternator, 30 Amps. • Stop...
Open the catalog to page 2
All Mitsubishi Equipment Europe catalogs and brochures

Compare up to 10 products