Catalogs

>

Marco 760 Sou wester
Catalog excerpts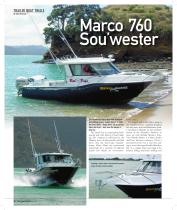 TRAILER BOAT TRIALS By Sam Mossman Since purchasing Marco boats from aluminium boat building pioneer Graham Ransom in 2003, the Horne family – Dayne Horne and his parents Helen and Bryan – have taken the marque a long way. The family has an engineering background and a life history of boat building. The company is still based in the Waikato town of Morrinsville, and Bob Jarvie runs the day-to-day manufacturing. Marco Boats are represented nationwide by a network of eighteen dealers (for details see www.marco- Anchoring is simple, thanks to the permanently mounted anchor and helm-controlled windlass. New Zealand Fishing News April 2007 boats.co.nz). The largest hull in the Marco range is the 760 Sou'wester, a hardtop designed for stay-away trips and bluewater work. I travelled to Waiuku on the southern shores of the Manukau Harbour to meet up with Waiuku Marine's Dave Vare. Waiuku Marine is a Marco dealer, and Dave has been running a 760 as a personal boat for over a year now, taking it across the unpredictable Manukau Bar on a regular basis and using it for bottom fishing, bluewater trolling and
Open the catalog to page 1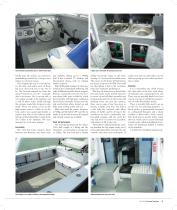 Flush-mounted instrumentation gives an efficient helm layout. family trips. He and his son proved its gamefishing potential by scoring a nice stripie out of it last season. Our original plan was to cross the bar, try the boat, and tackle some of those big west coast reds, but it was not to be. The forecast ramped up from the initial 10 knots to over 20 – ironically also a sou'wester. On a run-out tide it was crappy enough in the harbour, and a wall of white water visible through the entrance sealed the decision to stay inside. There was plenty of sea in the high-current areas in which to...
Open the catalog to page 2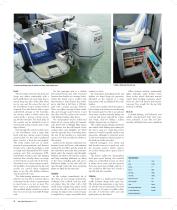 A fridge is fitted under the helm seat. A transom step-through, grab rail, platform and ladder, make boarding easy. Layout The forecabin is lined to the deck and sleeps two adults comfortably with a berth infill fitted. An extra bunk base is stored along one side of the cabin when not in use, and fits across the rear of the wheelhouse to give another berth if required. Two side shelves add to some under-berth stowage in the forecabin. An electric toilet is fitted under the centre berth, a privacy curtain screening off the forecabin. The back plate of the console can be unbolted to get at...
Open the catalog to page 3
All Marco Boats catalogs and brochures

Compare up to 10 products