Catalogs

>

Marco 650 Sou?wester
Catalog excerpts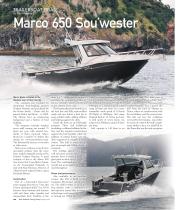 TRAILERBOAT TRIALS By Sam Mossman Marco Boats is based in the Waikato town of Morrinsville. The company was founded by aluminium boat-building pioneer Graham Ransom and purchased by the Horne family – Dayne and his parents Helen and Bryan – in 2003. The Hornes have an engineering background and a history of boat building. The company currently employs seven staff, turning out around 75 boats per year, with around twothirds of them exported. Marco Boats has a number of dealers (for details see www.marcoboats.co.nz). The Morrinsville factory covers sales in other areas. Marco now produces a much more up-market product than the more basic models originally produced by founder Graham Ransom. A good example of this is the Marco 650 Sou'wester that I travelled to Tairua, on the Coromandel Peninsula, to trial with Alan Thomsen, Director of Thames-based regional Marco agent Peninsula Marine. Construction Part of a four-model Sou'wester series ranging from 6m to 7.6m, this 6.5mm aluminium hull (7.1m LOA) features 5mm bottoms and transom with and 4mm sides, topsides and chequerplate deck. Deadrise at the 110 New Zealand Fishing News August 2011 stern is 17°, chines are downturned and there are no planing strakes fitted (or needed), which contributes to the softness of the ride. The bottom plates are butted up at the keel line and fully seam-welded inside and out, before a keel bar is seam-welded inside, adding stiffness and helping support the deck. Under the deck are six full-length stringers. Three full bulkheads (including a collision bulkhead in the bow and the transom construction) support the hull laterally, while the addition of partial frames sees the deck supported at roughly 450mm centres. This hull is rated to support six people and 100kg of gear if swamped. The welding appears solid and well executed, and the finish is very smooth; there is nothing like black gloss paint to show up any imperfections. The workmanship is excellent overall and good quality fittings are used throughout. Power and performance Also available in an outboard version, this 650 is fitted with a Cummins MerCruiser inboard diesel. The QSD2.0-litre is an in-line four-cylinder with a common-rail fuel injection system that includes a turbocharger and seawater aftercooler, turning out 130hp. Married to an Alpha sternleg spinning a 21-inch pitch Ventura four-blade prop, the rig turned out 30 knots (55.6kph) at 4000rpm as a top-end speed while using 28 litres per hour. At a more reasonable cruise speed of 19 knots (35.2kph) at 3000rpm, fuel usage dropped back to 13.1 litres per hour. A troll speed of seven knots was achieved at 2000rpm, using 6.6 litres per hour. Fuel capacity is 140 litres in an under-oor tank. The filler port is located on the outside of the transom wall. Alan Thomsen and I towed the 650 from his yard in Thames to Tairua, where we rendezvoused with his son Rodney and the camera boat. The tide was low, but conditions were perfect for boating – too perfect for much of a trial of the hull's roughwater ability in fact, as a small lift on the Tairua Bar was the only exception
Open the catalog to page 1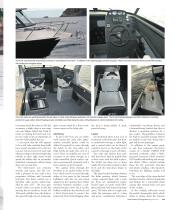 From left: a permanently mounted Sarca anchor is controlled from the helm. In addition to the engine gauges and fuel computer, a ush-mounted Lowrance Elite5 sounder/GPS handles fish-finding and navigation duties. From left: seats are upholstered plastic bucket types on nicely made fibreglass pedestals with internal stowage space. The forward-facing passenger seat tilts to disclose a mounting position for a gas cooker. Alloy through-gunwale rod-holders are fitted along the sides, with gimbal pins in correct orientation for trolling. to a pretty much at-calm sea. We did encounter a slight...
Open the catalog to page 2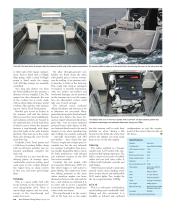 From left: The deck drains to sumps under the transom to either side of the engine compartment. The transom platform steps up in the centre third, also forming the cover for the stern-drive leg. to either side of the engine compartment. Each is fitted with a 550gph bilge pump, while a third 1100gph pump is fitted inside the engine well. All bilge pumps are manually controlled. Two long side shelves run from the helm bulkhead to the transom, a distance of (very roughly) 3.5m. The engine box does dominate the rear of the cockpit, but is nicely made with no sharp edges, forming a useful...
Open the catalog to page 3
All Marco Boats catalogs and brochures

Compare up to 10 products